User Sessions
User Sessions shows all captured user sessions on the computers with WE Client program installed and currently connected to WE Server. Here you may see such info as user name, computer name, user activity status (active\away), active application and window title. Status column reflects current user's activity state and last input time period (time passed form any mouse or keyboard action). Green icon is used for sessions with < 5min activity status. Red icon shows Away users, who is making no actions for more than 5min. If no users are logged into PC – you'll see a "No users logged in" message.

From the user sessions window you can go to the Activities Report for selected user. Just click on this button and Work Examiner will instantly forward you to the Activities Report with current user selected in Report Controls.
User sessions can be viewed grouped by organization units. Select an organization unit in the tree and you'll see it's sessions (for OU's user or computer). Organization units tree also shows number of user sessions for each unit.
You can move users and computers between organization units with drag and drop from the sessions list or using the Move button. If both session's computer and user exist in the same organization unit, Work Examiner will offer to select what objects to move: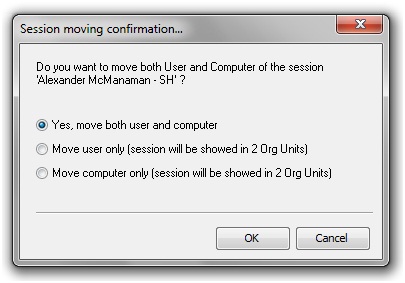 Read more about organization units management in the Organization Units section.
If Spy Features are enabled (checked during the WE installation or by editing so.ini from a "C:\ProgramData\WE\Server\" in win7\vista and "C:\Documents and Settings\All Users\Application Data\WE\Server\" in winXP), then the Surveillance button will be visible on the User Sessions toolbar. Surveillance feature allows to receive some information about user session in real-time mode: desktop screenshot, processed launched, websites opened: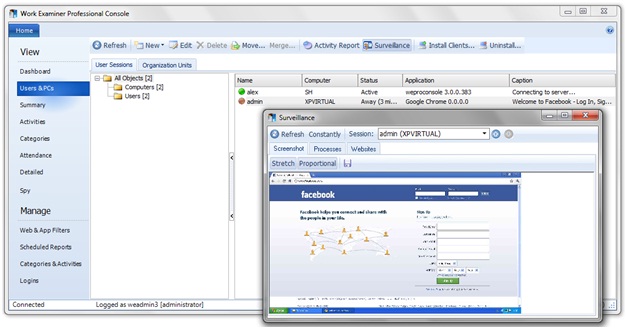 Screenshots can be recorded and played. See more information on it in Screenshots and Client Options sections.