Instant Messages
Instant Messages report shows a chat log in the Windows Live IM\MSN, ICQ instant messaging programs of the selected user(s). The report consists of a text box accompanied by a table.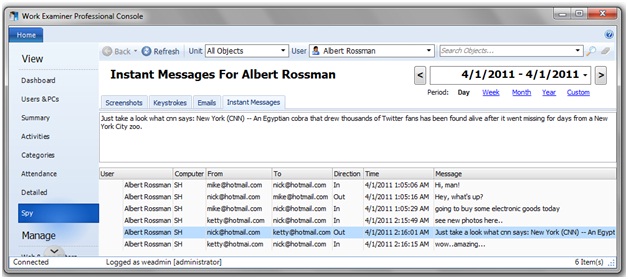 With this report you'll be up on what are users chatting about in ICQ, MSN, Windows live IM programs.
Using the Search box you may find chat messages. For instance, you may find any mention of boss's name in all messages. See more details about the Search feature in the Report Controls section.
Instant Messages report is only available when Spy features are enabled (checked during the WE installation or by editing so.ini from a "C:\ProgramData\WE\Server\" in win7\vista and "C:\Documents and Settings\All Users\Application Data\WE\Server\" in winXP).
See more info about instant messages recording parameters (limit captured applications list, enable\disable recording) in the Client Options section.