Server Manager Status
In Status tab Work Examiner services are displayed. User can run, stop and restart the selected service or all services of Work Examiner.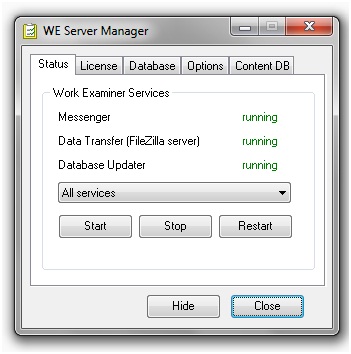 Work Examiner Server is using 3 services:
weServerMessenger.exe – Messenger service provides network communication between WE Console, WE Server and WE Clients.
weServerDBUpdater.exe – Database Updater service provides client logs processing and adding to the database, website content database control and some other items.
FileZilla Server.exe – 3rd party FTP Server, is used by WE Server to receive client logs, send filtering policies and client options. If you had your instance of FileZilla Server installed before deploying WE Server – contact support@workexaminer.com for assistance.