Scheduled Reports
Scheduled Reports feature allows to automatically create any report in the specified time. To create a scheduled report, go to Scheduled Reports section and click New…. One scheduled report can include one or many reports. Scheduled Report also has a generation schedule and target options to select where to save the report or either send it via e-mail. Scheduled Reports are generated by WE Server, from weServerMessenger service, in the background. It means, that they are not dependent on WE Console.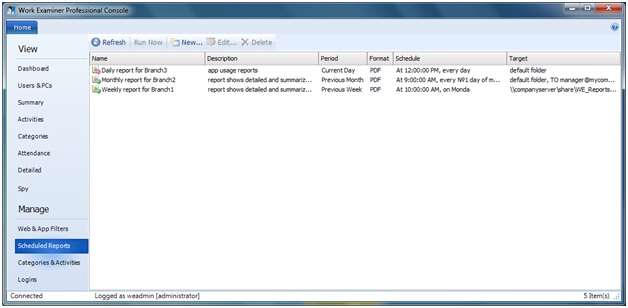 Scheduled Report includes these groups of parameters:
General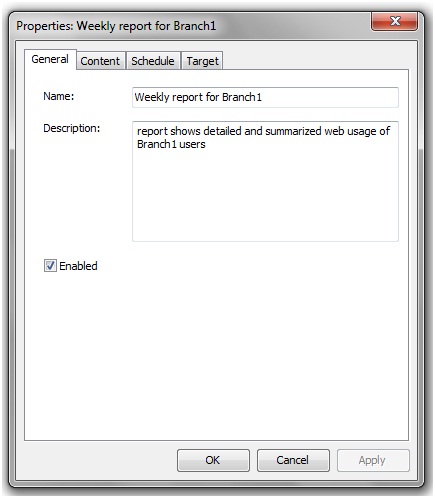 Name and description
Enable\disable a scheduled report
Content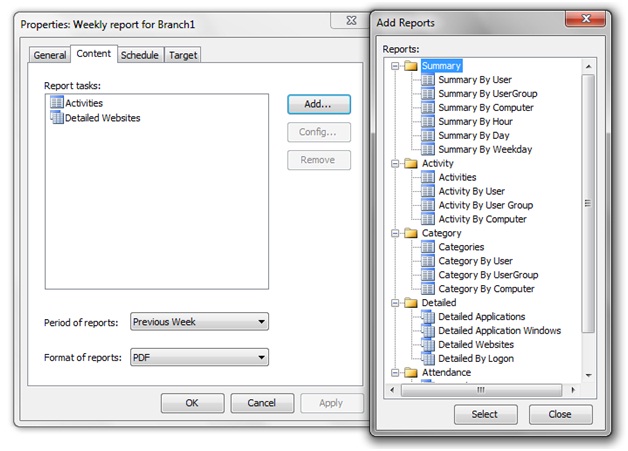 Scheduled Report contents – report that will be included into it. Content reports are called Report Tasks. When you add a Report Task you get all data filtering options available in the Extended Filter of the Report Controls section.
Period of time that reports will reflect
File format to save all reports as
Schedule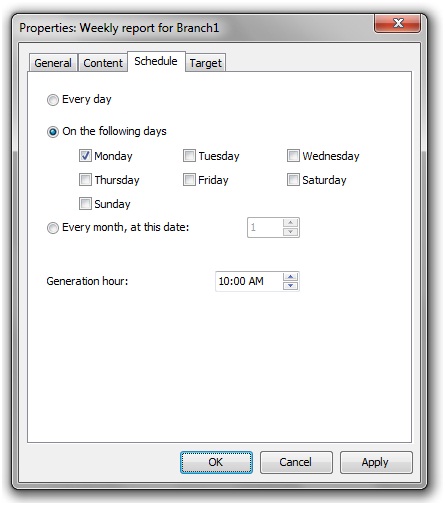 Scheduled time of reports generation. Daily or weekly or monthly periods are available
Target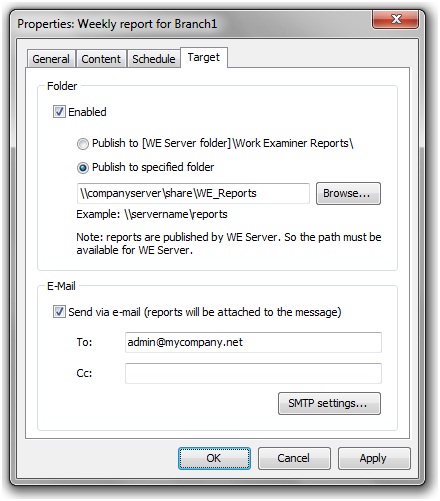 Target folder selection
Target e-mail address selection
Target tab manages the publication of reports, e.g. in what folder or to what e-mail they will be sent. It is important to remember that server service weServerMessenger provides publication – and it must have access to the appropriate path or mail server on the Internet.
If you use sending reports via e-mail you must specify SMTP settings of e-mail server (e.g. gmail.com, hotmail.com), which will be used by weServerMessenger service. For detailed SMTP setting information see SMTP Settings. By default, built-in yahoo account is used.
Any report created with any data filtering options can be scheduled (except Spy reports). See more details on how to schedule reports from the Report Controls section.