SMTP Settings
SMTP (Simple Mail Transfer Protocol) settings are used to send e-mail alerts of app\web filters and scheduled reports to the e-mail.
To open the SMTP Settings select the Server Options item in the Main Menu: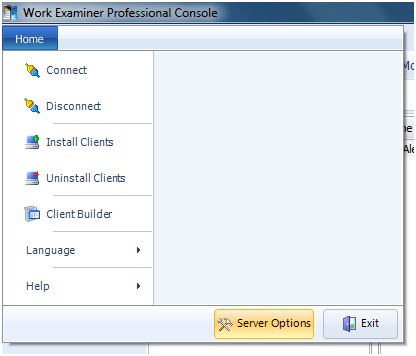 then go to the SMTP tab: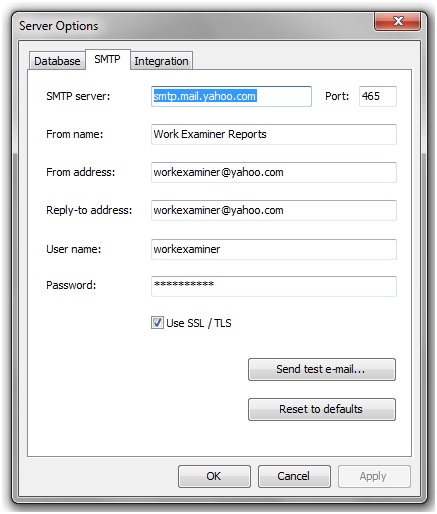 SMTP Settings are also available from Scheduled Reports options, Website Filters and Application Filters rules. SMTP parameters available:
SMTP Server – e-mail server address that will send e-mails.
Port –SMTP port number.
From name – Sender's name.
From address – Sender's e-mail address.
Reply-to address – not required field, used to send replies to another address than defined in the From address field.
User Name –login to authorize on the e-mail server.
Password – password to authorize on the e-mail server.
Use SSL/TLS – SSL/TLS authorization mode is required by some e-mail servers.
To check if the SMTP settings are correct use a Send test e-mail feature. Click on the Send test e-mail button and enter recipient's e-mail: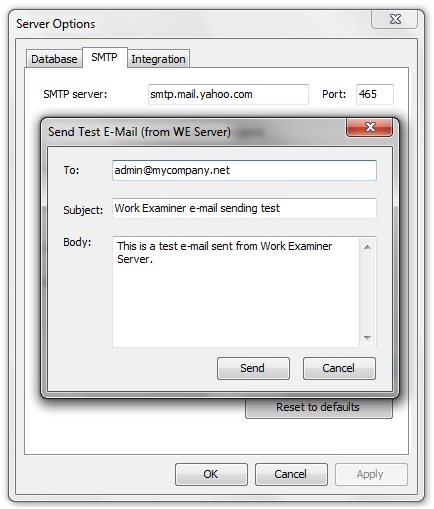 If the test e-mail was received, SMTP settings are correct and working. Otherwise, check the weServerMessengerLog.txt file in WE Server's folder for SMTP error messages.
By default, SMTP settings are configured for the yahoo.com account of Work Examiner. This makes all e-mail alerts and report work without any special user actions.