Categories and Activities
The Categories and Activities section allows to group applications and websites (together called activities) into groups called Categories. Categories can be used in reports, app\web filtering rules, scheduled reports.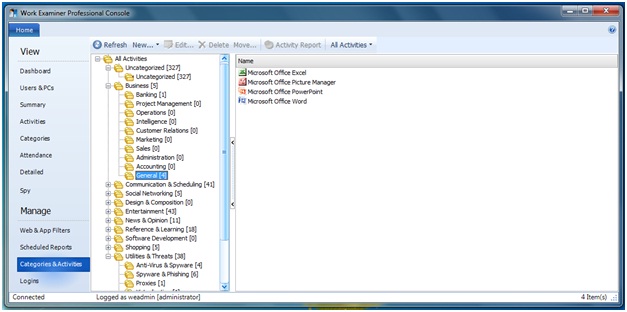 There is a 2-tier system of categories. 1st level categories can include 2nd level categories and no activities. 2nd level categories can include activities only. One activity can be a member of one (2nd level) category only.
In the left part of the program window you may see the categories tree. In the right part selected category members are showed. To groups activities into categories and move from one category to another simply use mouse drag-and-drop or a Move button. Usually activities categorization is made under the Activities report where you can sort the most important applications and websites (because most used actions are in the top of the report).
Work Examiner system has some predefined categories. They are grouped by business tasks (Business node) and by functional characteristics. But you can make any custom view of the categories tree by creating and deleting categories. The only restriction here is that only empty categories can be deleted.
Also, Work Examiner has some techniques of automatic activities categorization. By default, the system categorizes applications and websites using its own applications database, keywords found in webautocat.ini (for websites) and the website content database (if accessible by subscription).
Website content database availability depends on your existing support&updates subscription. If it is on, this db of millions of domains categorized by 80+ groups will be constantly updated once a 10 days. See more information in the Database Settings section.
Webautocat.ini file is located in WE Server's folder and is used when site was not found in the website content database. You may edit this file to create your custom patterns of web categorization.