Keystroke Logging Application
In modern companies, safety measures should also involve the protection of both computer and Internet usage. It is important to pay close attention to computer activity, especially in a corporate environment. Keeping track of applications and websites used by employees can prevent some unwanted situations and even illegal actions. This will also improve the overall productivity of a company.
Nowadays, there are many tools and methods for tracking the activity of your employees while they are working on a PC. One of the most simple and efficient ones is the keystroke logging technique. Work Examiner is high-quality software, which offers this feature among many others.
The Possibilities of a Keystrokes Logger
Keystroke logging is a method that records the buttons pressed on a keyboard and sends it to an Administrator computer to view. This is a great solution for computer monitoring without actually checking each device and going through the browsing history of every single employee.
Is this method intrusive? Any type of activity monitoring should be discussed within the company rules and agreed upon by every employee. This way your workers will know that the tracking software is used for ensuring safety at a working place. In addition, this feature is not visible on employees' computers.
There will be no unnecessary tabs and messages popping up. The Administrator, in turn, will see all the buttons pressed by each user in a convenient application.
Here are some of the features of the keylogger:
Programs and Internet capturing – all the buttons pressed on a keyboard will be recorded, whether an employee was typing something in a program like Microsoft Word, or in an Internet browser, or on a website;
Easy filtering – a manager will be able to search for any necessary information on the Administrator computer. It is possible to filter the data by PC, its user, webpage, program, time and date, etc.;
Specified keystroke logging – there is no need to capture every single application and webpage. You can select programs and websites you want to keylog and receive the information from those sites and apps only. This is handy for monitoring activity on banned webpages and applications unrelated to work, such as social media messengers and games;
Recording every symbol – in a report, you will see both numbers and letters typed on a computer. They will be displayed in an easily readable and manageable way.
Working with Work Examiner is simple. It will take a few minutes to obtain the software and install it on all necessary devices. After that, you will be able to start monitoring the activity immediately. Working with keylogging software does not require additional training and is easy to set up.
Work Examiner's Keystrokes report
The Keystrokes report presents a full log of all keys pressed by selected user(s). The report consists of a text box accompanied by a table.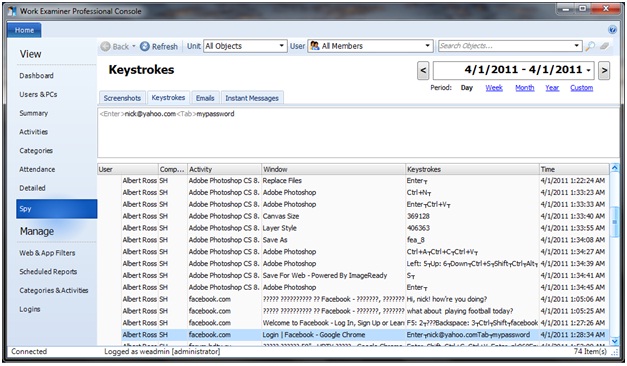 With this report you will know everything a user was typing on the keyboard, in any application – chat, on the Facebook, e-mail, etc.
Special keys like Shift, Ctrl and some others are grayed.
Using the Search box you may find keystrokes by the text typed, application name and window title. For instance, you may find any mention of boss's name in any chat message\email typed. See more details about the Search feature in the Report Controls section.
Keystrokes report is only available when Spy features are enabled (checked during the WE installation or by editing so.ini from a "C:\ProgramData\WE\Server\" in win7\vista and "C:\Documents and Settings\All Users\Application Data\WE\Server\" in winXP).
See more info about keystrokes recording parameters (limit captured applications list, enable\disable recording) in the Client Options section.