Ordering information
Controlio is a web-based SaaS (software as a service). The client agent is installed on employees' computers, all report data and admin features are prodived from the web dashboard.
Controlio is licensed by concurrent user sessions.
Work Examiner is a Windows client-server application. The client module is installed on employees' computers, while the server module is installed on the manager's or network administrator's computer. Work Examiner is licensed for each client computer (seat).
So, you will need one license per each computer you want to be monitored. Server computer is not licensed.
E.g. if you want to buy WE Standard to monitor 15 PCs, the total price will be 15 x $45 = $675.
Terminal servers are licensed by users count, so 'client' = 'user'.
Pricing
WE Controlio price is $79.90 per user/annually or $7.99 per user/monthly. With minimum 1 user license required for annual subscription and 5 users for monthly subscription. Volume discounts are offered for 100+ licenses.
WE Standard

WE Professional

Client Licenses
Price (per PC)
Client Licenses
Price (per PC)
1..2
n/a
10..19
$60
3..24
$45
20..49
$45
25..49
$40
50..99
$43
50..99
$30
100..199
$40
100..149
$25
200..299
$37
150+
contact us
300+
contact us
ATTENTION: While ordering the Std/Proproduct on the corresponding page, you may provide your Hardware ID (HID) code to speed up the registration process. You can find it in the 'License...' page of the WE Server Manager: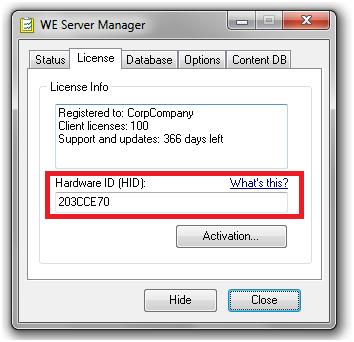 NOTE: All registrations are made with the help of SECURE protocols preventing the information about your credit card to be intercepted by any third parties. We provide encryption approved by VeriSign.
If you want to modify the information in your order after you have made it or if you would like to ask a question about making an order, paying for it, or delivering the product, please, visit the Customer Care Center.