Screenshots
The Screenshots report shows recorded images captured from monitored user's desktop. The report consists of an image accompanied by a table.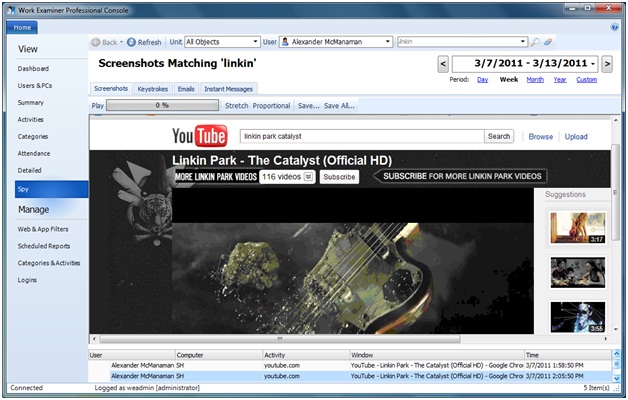 You may play screenshots as a video. Just click on the Play button. You may stretch images and make their size proportional. To save current or all images use the Save.. or Save All buttons. Images will be saved in bmp format.
To make a screenshot search by application or window, use the Search box from Report Controls.
The Screenshots report is only available when Spy features are enabled (checked during the WE installation or by editing so.ini from a "C:\ProgramData\WE\Server\" in win7\vista and "C:\Documents and Settings\All Users\Application Data\WE\Server\" in winXP).
To get screenshots in the real-time mode – use the Surveillance function from Users and PCs - User Sessions
See more info about screenshots recording parameters (frequency, color depth) in the Client Options section.