All posts
Full-scale Reviews of Top 10 Employee Time Tracking Apps for 2022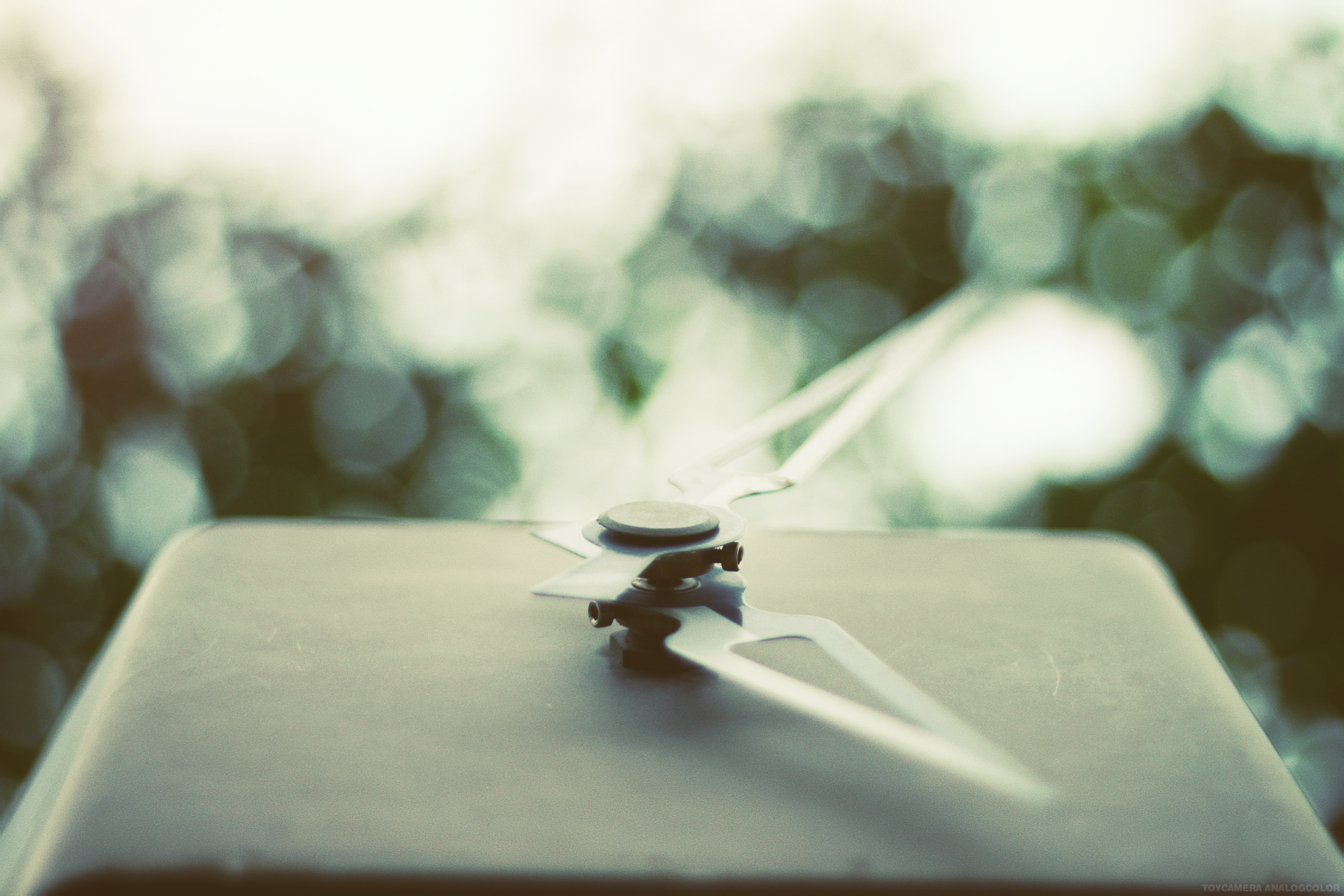 Do you know that the number of employee time tracking apps available on the Web exceeds half a thousand? Yes, this type of software helps businesses to automate routine time management, eliminate mistakes, and, in the end, increase productivity and reduce costs. But how can you choose the one to suit your needs in such apps galore? Reviews from platforms like Capterra, G2, or GetApp can be of much help, but sometimes they are also contradictory and confusing, especially for those who have never used an employee time tracking app and don't know what to look for.
We've decided to select the best apps based on our experience and reviews from reputable resources and show how these solutions work from the inside.
1. TrackingTime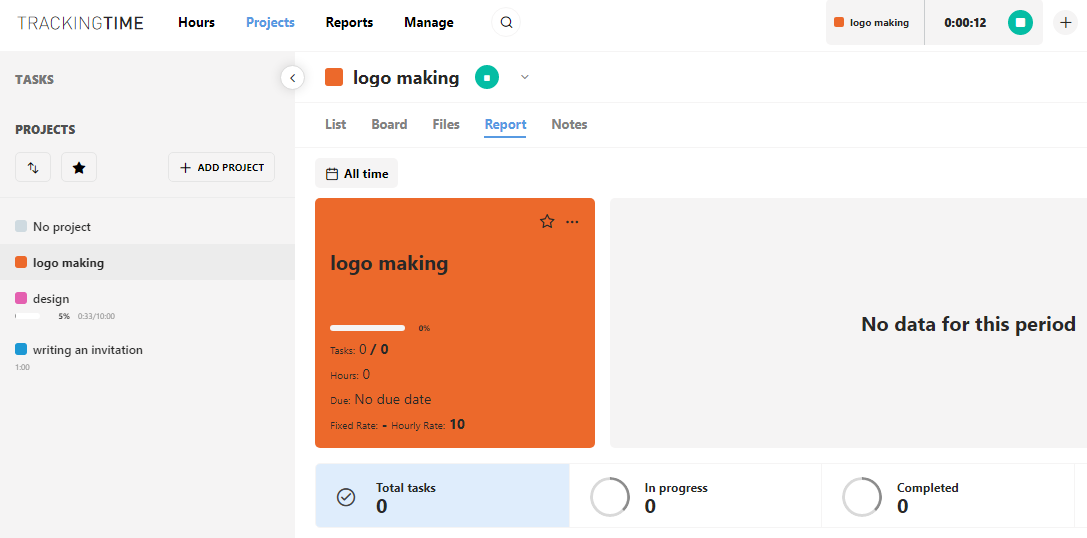 TrackingTime stands out for its nice combination of features since it serves as a project management platform and employee time tracking app. It has a free plan beneficial for small teams, although users won't be happy with its limited functionality. Yet, the paid version offers good value for money, so we are not surprised the app scores highly on Capterra and G2.
Project Management
TrackingTime allows for creating projects with deadlines, estimated time budgets, and clients specified. You can also divide your projects into tasks and subtasks with the possibility to add notes, write comments, and upload files necessary for work. Projects are set as public or come with a range of users authorized to access them.
Boost Productivity
of Your Employees!
Employees are invited via email and need to configure their accounts with the service to join you. You are free to select roles for the invitees, ranging from coworkers assigned to specific tasks and up to project managers with full access to projects within your TrackingTime account. However, the settings are customizable to give you better flexibility with roles and permissions.
There is a basic color palette to distinguish between projects and priority marks to rank tasks. You will have no problem with finding required pieces of work in your dashboard thanks to vast filtering opportunities, including by priority, client, or date. You can store necessary information on your clients and employees in the app by creating custom fields, for example, for billing details or job positions.
Establishing work schedules is also available, with notifications attached to remind your employees of tracking the scheduled hours. Another way to benefit from the scheduling is by specifying a date of an upcoming event, for example, a Zoom meeting. The event will be displayed in your calendar to offer a reminder and automated data conversion to timesheets and reports.
Time Tracking
The app has a built-in timer, which is accessible from everywhere within your TrackingTime account. This means that your employees and coworkers don't even need to get connected to a specific task to start clocking the time, but they still have the possibility to link these time entries to an assignment later. For another thing, the timer feature is available in each task and project, and authorized users can add and edit time entries manually.
Moreover, thanks to extensions designed for Chrome, Microsoft Edge, and Firefox, the timer button can be integrated with 30+ popular business apps, including Basecamp, Any.do, Asana, Google Calendar, Trello, and Gmail. Native applications for desktops provide fast access to the timer right in the taskbar of your OS.
Employers and managers can view time entries made by a user throughout the day while weekly and monthly views allow managing hours logged. Each of these options is supplemented with the Insights button, which reveals beautiful visualizations of time spent across assignments. You can also explore time entries in corresponding projects and tasks, where data migration to timesheets is available.
TrackingTime's timesheets and reports are highly customizable to include and accurately organize data exactly as you need. They are sharable via links, savable as templates, and exportable to PDF, CSV, or Excel. The reports deliver tons of useful information: users' timelines, activity comparisons, hours worked, projects completed, team overviews, and more.
TrackingTime's possibilities are further expanded through the Timecards add-on, which automatically records clock in/out, extra hours, paid time off, and breaks. Although the autogenerated data might be a bit imprecise, you can fix it with the help of editing tools for more accurate reporting.
Billing and Invoicing
TrackingTime lends itself to billing favorably with the Money Mode enabled and hourly/fixed rates added to projects and tasks. You can also assign hourly rates and costs to users and tackle both project budgeting and payroll. When all the required data are specified, a task is easily transformed into a billable timesheet with the totals automatically calculated.
The Invoicing Mode allows for customization by adding your company logo and selecting a color for an invoice template. As soon as you are done with creating the template, you can fill it with the necessary information, including due dates and applicable tax rates. Then, you have the choice between sharing a link to the invoice with a customer and downloading the document as a PFD file. You can manage your invoices by changing their status and store them neatly in the account.
Pricing
TrackingTime offers a 14-day free trial with no credit card required, which can be then followed by a free version. The free plan is limited to three users and projects, with reduced functionality as well. The Pro plan gives access to all the features and costs $5 per user/month if billed annually.
Pros
All basic project management and time tracking features covered
Web app, native solutions for macOS, Windows, iPhone, and Android portables, extensions for Chrome, Firefox, and Edge
Integration with 30+ apps
Cons
No performance analytics
No automated activity tracking
No payment gateway attached
2. Controlio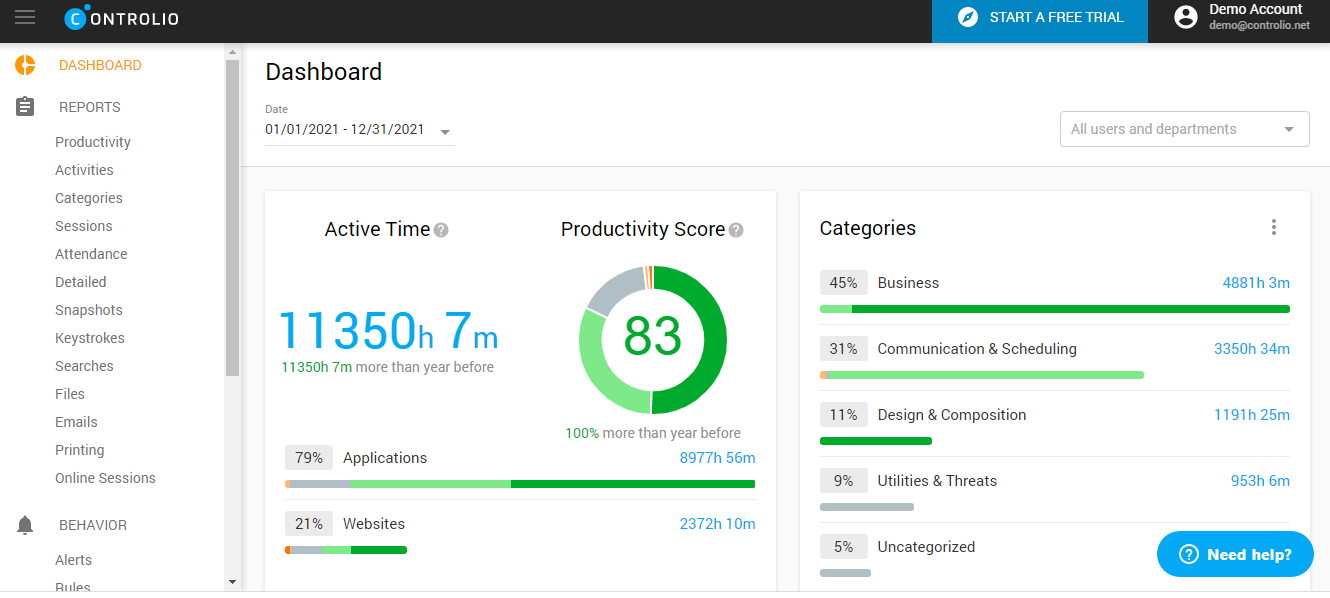 Controlio is quite another type of employee time tracking app since it doesn't deal with project management but focuses on boosting performance and implementing workplace policies instead. It's a versatile and well-priced solution placed in the TOP10 employee monitoring software list by PCMag. Its trial version comes with unlimited functionality, so you will be able to test all the features prior to making a choice.
Monitoring Management
Controlio records time spent by employees on computers automatically, capturing the users' interactions with apps, websites, mice, and keyboards. As soon as the client program is installed on desktops, it starts monitoring all the activities performed on the devices. Controlio can be deployed across remote PCs or on-premise, through a local network. Time tracking runs according to policies created by an admin, who specifies what activities should be monitored towards various users and departments along with when and how the monitoring takes place.
To this end, Controlio allows setting up different access levels for managers and employees and pairs them with a hierarchy that mimics your business's organizational structure. Moreover, an employer can invite their stuffers for self-monitoring or even permit time tracking with the icon mode. The latter option places the Controlio icon on the computer taskbar for the users to turn the monitoring on or off as they like. This feature distinguishes the app from many similar solutions since it ensures transparency and contributes to employees' privacy protection.
Time Tracking
When turned on, Controlio records total, active, and idle time spent by users on their machines. Active time is recorded when the workers interact with their mice and keyboards, thus displaying actual work sessions more accurately than manual entries. Controlio starts recording idle time when a user doesn't interact with the controls for a specified timeframe. To enhance the data accuracy, Controlio provides adjustable idle time sensitivity, and you can even set different, lengthier values for online meeting apps like Skype.
While active time shows hours worked, idle time is helpful in tracking breaks and attendance. Controlio also calculates the Activity Ratio, where active time is measured up against total time, which highlights your employees' focus on accomplishing work-related tasks. The start and end times of work sessions give you insight into the true activity schedules of your workforce and reveal how the staffers comply with the established workplace discipline. Controlio records work sessions based on both log in/out time and first/last interaction to better match different workflows and deliver more accurate data.
Keep in mind that the app links the time recorded not only to users but also to apps and websites they use. So, you can view active/total time spent on various platforms to evaluate their efficiency and detect distracting activities. Besides, Controlio generates a heatmap showing time distribution by day and hour for you to learn additional information like productivity peaks or over hours. For that purpose, you can use Active Hours visualization as well — it displays active time distribution by 24 hours of a day.
What is more, Controlio allows employers to keep track of their workforce activities in real-time, as it shows all the users currently online with the activities being performed. Each online session is complemented with live streams of the computer screen so that a supervisor can check the workflow without bothering workers.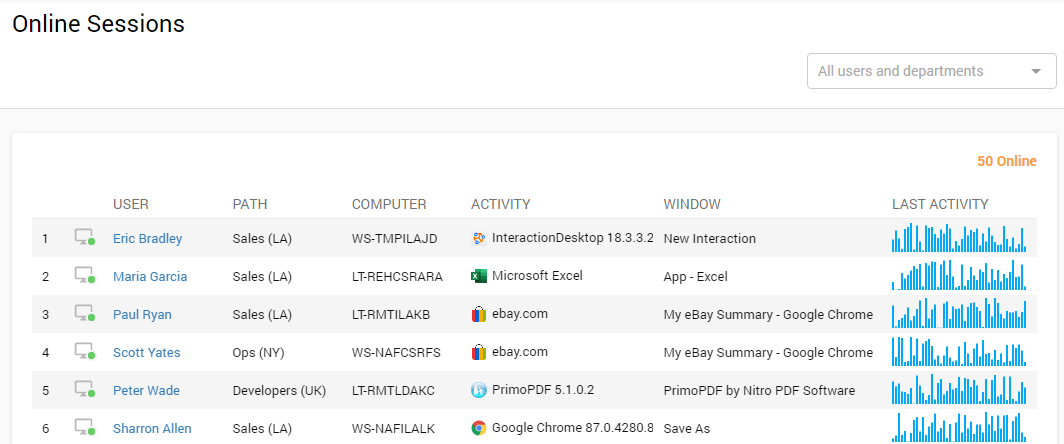 Productivity Monitoring
Productivity-boosting opportunities provided by Controlio are powered by a categorization system that assigns different levels of productivity to websites and apps. The categories range from communication and scheduling to shopping and learning, with further subdivision to more granular application areas like marketing or dating. The system includes very productive/distracting, productive/distracting, and neutral levels.
Thanks to its own immense database of resources, Controlio's engine sorts out websites and apps by default, but you can change the settings on the fly to better fit the specifics of your business. Moreover, you are welcome to adjust the productivity levels to workflows of separate departments or even users.
Controlio leverages productivity levels and time spent by employees in apps and on websites to autogenerate the Productivity Score. Unlike regular automated time tracking that shows only the duration of a user's activity, the scores evaluate efficiency since they reveal the portion of time spent on productive work, that is, aimed at achieving certain business goals.
Controlio delivers productivity scores for a company, department, or user based on any time span specified and even compares these metrics with the previous period. Furthermore, the app links productivity levels to time distribution and visualizes the hours and percentage of work-related tasks and non-work activities via the Productivity Bar.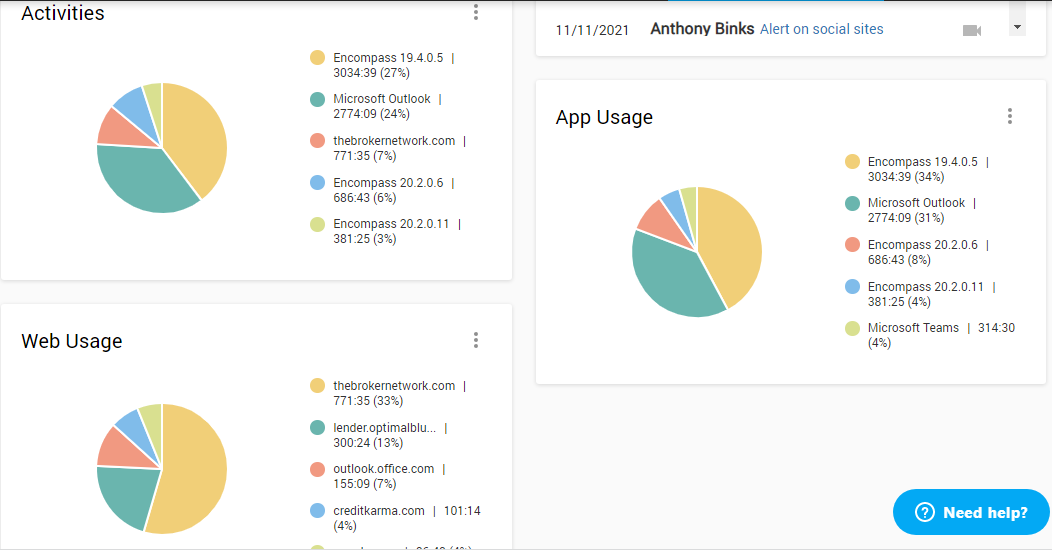 User Behavior Management
Controlio's functionality goes beyond time tracking and computer usage monitoring, as the app offers tools to eliminate the most common workplace distractions. If you happen to learn (with the help of Controlio, of course) that your employees waste time shopping online or checking social media pages, you can set alerts on these productivity-killers or block them entirely.
Whichever way you prefer, you are not forced to manually list all the non-work platforms. Owing to Controlio's database, it is easy to block whole categories of distracting platforms, such as magazines, news, sports, and so on. With that, the app ensures flexibility and lets you select users, teams, or websites to be exempt from the rules. So, your PR department will be able to work with your corporate Facebook page, while all other staffers will be prohibited from visiting it or even redirected to a work-related webpage. You can also allow non-work websites and apps during small breaks by setting a delay time before blocking.
Alerts and blocks come in handy to address other issues associated with misuse of computers, email, and Internet access in the workplace. You can prohibit visiting adult and aggressive content, gaming and gambling platforms, file-sharing services and other resources that pose the risk of eroding workplace morale or infecting your machines with malware.
For insider threat prevention, Controlio offers alerts on certain keystrokes, bans on inserting removable storage devices, video snapshots, and monitoring of emails, searches, files, or print-outs. However, Controlio promotes non-intrusive surveillance and allows connecting these tools only when and where it is required.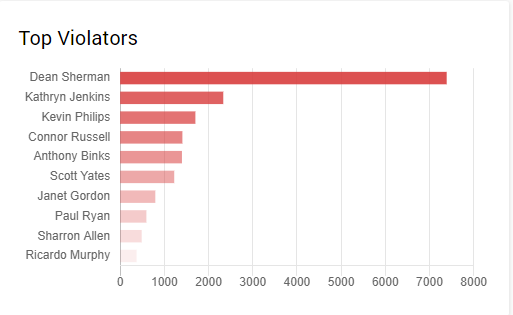 Pricing
The app has a 14-day free trial for three users and the unlimited Cloud plan, which costs $7.99 per user/month with a 15% discount if billed annually. It also boasts flexible pricing for the On-Premise and Private Cloud plans available on request.
Pros
Non-intrusive yet comprehensive computer usage monitoring
Productivity scoring for users and departments
Solutions for macOS/Windows, access from mobiles via common browsers
Cons
No blurred screenshots
No geofencing and location tracking for portables
No project management tools
3. Hubstaff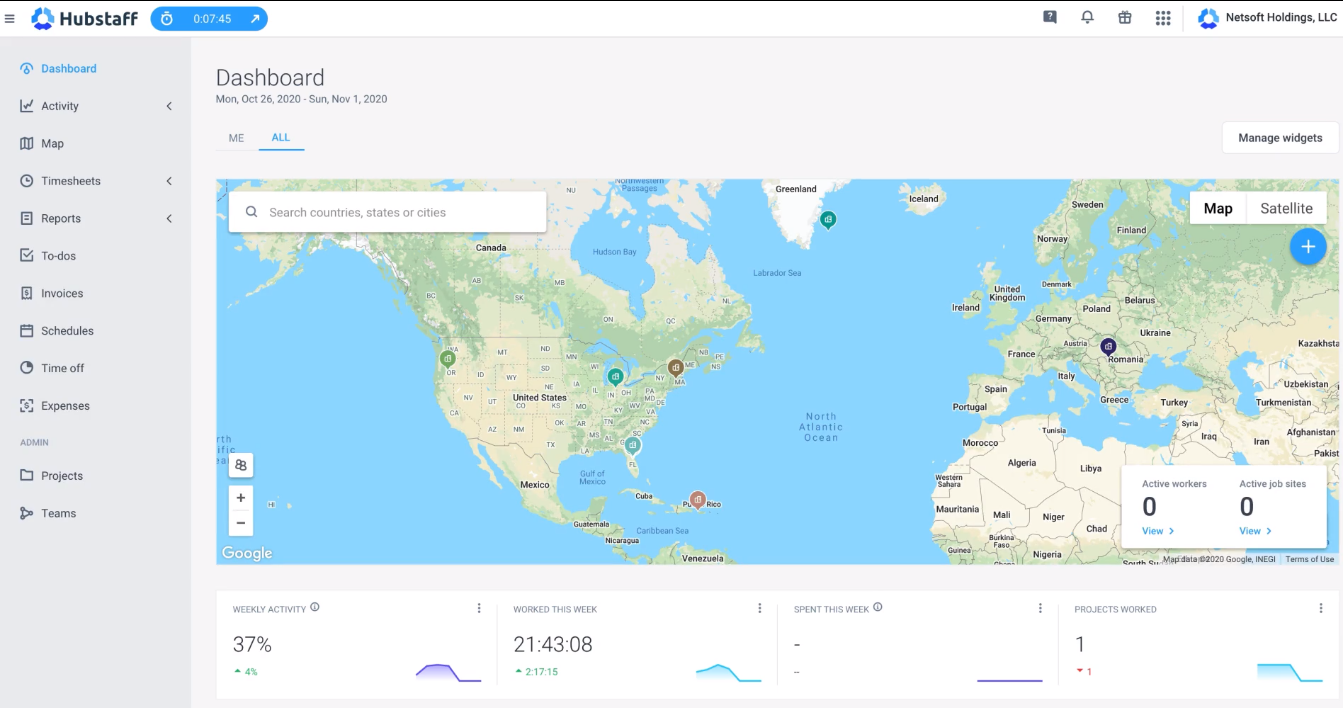 This app is kind of an employee productivity tracking kit, as it actually consists of three modules, each of them addressing a specific challenge. Hubstaff Time deals with time tracking, Hubstaff Desk covers team management, while Hubstaff Field is all about remote job sites and mobile devices. PCMag lists Hubstaff among the best time tracking software for 2021, so we cannot miss reviewing it.
Project Management
Hubstaff allows businesses to customize their accounts from the get-go: you are offered to specify your team size and preferred currency, upload the company logo, choose the features you want to activate, and more. However, you have the opportunity to adjust the settings down the road, while you won't be able to start time tracking in the app without creating a project.
For each project, you can assign users with different roles and corresponding access levels. In addition to managers who will supervise the project and employees who will work on it, Hubstaff lists viewers with the right to explore team reports. It's not a common option in employee time tracking apps, although it's really helpful when you want to provide your clients with proof of work without much ado. Users join the service upon receiving an email link, creating their own Hubstaff accounts, and downloading the app.
Apart from designating employees and clients, you can label your projects as billable or non-billable, supplement them with short descriptions, attach budgets, and, of course, split them into tasks. In Hubstaff, they are called to-dos, but you are not limited to the native option. Thanks to integrations with popular management tools like Asana, Github, or Mavenlink, projects in Hubstaff are easily linked to already existing tasks in third-party apps. Your employees will be able to edit tasks within assigned projects, while manipulating with projects is accessible exclusively for supervisors.
Time Tracking
Although Hubstaff provides extensions for the Chrome browser, dedicated solutions for iOS and Android, and a cross-platform employee time tracking app for Windows, Chrome OS, Linux, and macOS, the tracking functionality differs a lot across these tools. It might be tricky for employers to figure out which features they will get at the end of the day, but a built-in timer is available in any Hubstaff version. Moreover, you can decide whether you want to permit using all the timers or limit your staff/separate employees to the desktop timer only.
Anyway, your team members can choose between a timer and manual time entries to log their work-related hours. In the former case, they need to select a project or task assigned to them and click on the Play button against the corresponding assignment. The recorded time is added to timesheets automatically, but it can be edited later. However, employers have to permit their staffers to manually add/edit time entries; otherwise, they can do this by themselves through Daily, Weekly, and Calendar timesheets.
Geofencing is another way to go since the apps for portables allow using GPS data for automated attendance tracking, clock in/out, and timesheets generation. You just need to specify an address, geofence radius, team members, shift details, and timer settings to receive all the information on your employees' workday as if you were peering over their shoulders.
Activity Tracking
Similar to Controlio, Hubstaff tracks activities performed by users on work computers yet with some limitations across its versions. By default, as soon as a user hits the built-in timer, the app starts recording the user's interactions with the mouse and keyboard while also capturing screenshots and app/website usage. It's a smart solution, which pairs the time logged with proof of work and, at the same time, generates productivity metrics for analyzing and decision making.
To measure performance, Hubstaff identifies idle/active/total time and calculates activity levels based on the percentage of interactions over the total time tracked for a specific period. Idle time is adjustable for a whole company or individuals to be more consistent with different workflows. Both employers and employees can view activity levels, screenshots, apps, and websites via personal or team dashboards. However, your staffers will see only their own records, as Hubstaff is committed to protecting privacy.
The app is not designed to track the usage of mobile devices, but it records their location based on GPS data. It displays maps with places, routes and times, so you can track remote work sites, vehicle fleet, or business trips and check the time spent on work-related activities. The app is customizable to record locations during established shifts, or when the timer is on, or when the app is open.
Finance Management
Hubstaff allows setting pay periods, pay types, and pay/bill rates for each member of your team to provide automated payments once you approve their timesheets. The latter ones include not only the time tracked but also activity levels, idle time, and a percentage of manual entries for the employer to get a clearer picture of performance and make proper adjustments. The approved timesheets are paid in several clicks thanks to Hubstaff's integrations with Payoneer, BitWage, PayPal, TransferWise, and Gusto payment gateways. You can opt for manual payments with the same systems or export all the required data to pay outside the app.
Billing is no less easy with rates established for projects and workers, which are added to timesheets before turning them into invoices. The Invoice section of the employee time tracking app is packed with customizable features to create accurate and professional-looking payment documents. While employers can bill clients, their staffers are allowed to issue invoices to the bosses. Both parties will benefit from auto invoicing, reminders, status tracking, and other useful features available in the app. The invoices can be delivered in several formats: HTML, PDF, or by email.
Pricing
Hubstaff's free plan is indented for a sole user and doesn't cover all the functionality. The full suite of features is available in a 14-day trial version, while the Starter plan will cost you $5.83 per user/month if billed annually. However, this option also has some limitations, and you will need to pay $8.33 per user/month for the annual Desk and Field subscription to remove them.
Pros
Offline time and activity tracking
Geolocation for mobile devices
30+ integrations
Cons
No distractions blocking
No real-time monitoring
Basic productivity reporting
4. Timely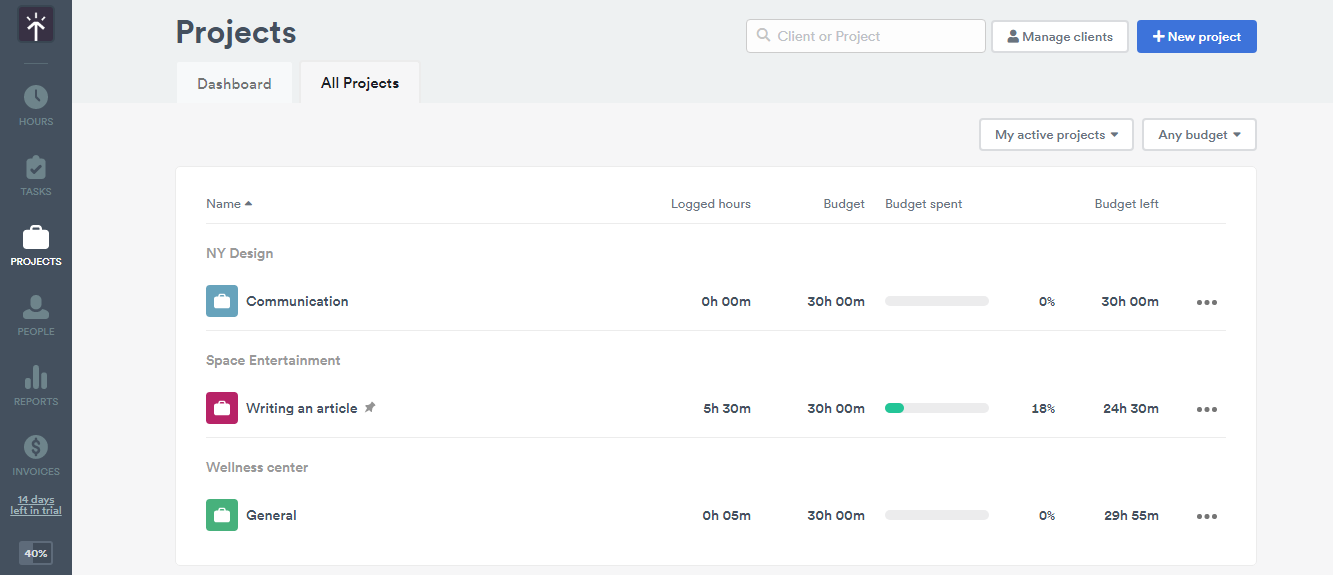 Much like the previous employee time tracking app, Timely works towards project management and automated data collection, although it offers quite a different approach to the information gathered. It focuses on employees' privacy protection, so it will be a nice choice for employers seeking to build trust in the workplace.
Project Management
To start tracking time with the app, you need to create a project and attach a client since all time entries will be linked to specific tasks and customers. For easier navigation through projects, Timely offers a choice of colors, which will be also tied to relevant hours logged. By choosing people to add to the project, you will allow your employees to enter time spent towards performing the task. You can assign a money or time budget for the project to monitor the progress and better predict deadlines/expenses for a similar job in the future.
Enabling notes and tags will help you standardize and improve reporting across users and projects. Notes are used to add context to time entries, while tags usually serve to differentiate project phases and task types, but you can tailor them to your needs by creating your own tag lists. Another useful feature to pay attention to is planning. As the Day view of logged hours is designed to add/view time entries and associated activities, the Week and Month views provide a calendar where a user can create future entries with hours they plan to spend performing the task.
Speaking about users, they are predictably invited to Timely via links sent in emails. But prior to assigning your employees to projects, make sure to divide them into teams and establish proper roles for regular users, who are allowed to log only their own hours, and managers, who get access to all data under certain projects.
Time Tracking
Timely doesn't require launching a timer or entering hours worked manually, thus eliminating interruptions in your employees' workflows. It is powered by the Memory app, which runs in the background and captures programs and websites your staffers are using. The app creates work items called "memories": they are titled according to documents, tools, or pages utilized and linked to the entry time and hours spent there. The memories are automatically added to the users' timelines/lists to clearly display all computer-based activities throughout a day.
Timely's hallmark is a private Memory inbox accessible to employees only. This means that your team members will decide which of the memories to add to their timesheets for you to view. This way, they can sort non-work activities out from work-related tasks to protect their privacy while missing not a minute of their billable time. When your employees are ready to create a timesheet, they just drag and drop corresponding memories from the inbox and make them visible to other people in their workspace.
Another signature feature of Timely is AI that learns users' logging patterns over time. It organizes lists of memories by prioritizing activities they are likely to log and drafts time entries to link them to a project. Users can even teach the AI by connecting memories to projects to make its prompts more accurate. Eventually, it will grow smart enough to create fully automated time entries (or those requiring the smallest adjustments). Besides, the AI has a knack for detecting abnormalities in user behavior, sending notifications to managers so that they could prevent crises before it's too late.
However, Timely offers more traditional ways to track time as well. Users can avail of manual time entries, a built-in timer, or even timestamps (auto calculations based on start and end time specified by a user). If a user prefers these options and doesn't want the Memory app to continue tracking their activity, it is easy to turn it off in one click. All in all, you don't even need to download the app with the classic time tracking tools available, although the automated tracking is exactly what makes Timely shine out.
Invoicing
To facilitate administrative work even further, Timely offers to label projects as billable/non-billable and set individual or single hourly rates for employees. In timesheets generated by the app, logged hours are translated into logged money and compared with the planned figures. As soon as you are ready to bill a client, you can create an invoice in several clicks and send it to QuickBooks Online, which is available for integration with the employee time tracking app. You can manage and store your invoices in Timely conveniently while tracking their QuickBooks status without leaving the app.
You also have a choice of how to bill your clients since you can invoice based on a money budget set for a project instead of logged hours. However, note that you will be able to create only a single invoice for the whole project in this case.
Timely generates reports that can be used for billing purposes as well. Thanks to a bunch of filtering options, employers can craft a report on unbilled hours per user or project and pair it with meaningful visualizations made with the help of bar chart or donut chart widgets. The reports are exported to PDF, Excel, or CSV files or shared via a link. Moreover, there is a live report feature available, which automatically updates figures in a shared report as soon as you enter fresh data.
Pricing
You have a chance to start using this employee time tracking app for free with a 14-day trial that doesn't require providing banking details. The cheapest paid option costs $8 per user/month if billed yearly and covers 50 projects and three teams. The Premium plan is unlimited and costs $14 per user/month for an annual subscription, but it doesn't include advanced reporting. You will need to pay $20 per user/month for the Unlimited plan, while a custom plan is available on request.
Pros
Employees' privacy protection
Both automated activity tracking and manual time logging
Native apps for Android and iOS, desktop apps for Windows and macOS
Cons
No website blocking
No performance stats
Poor invoicing opportunities
5. QuickBooks Time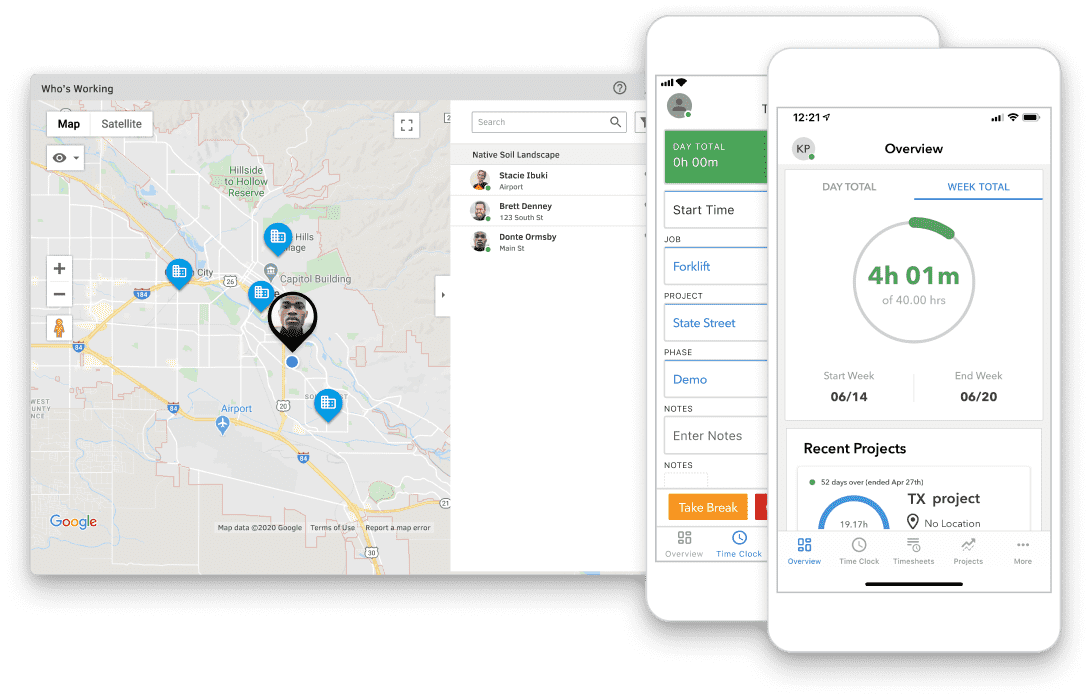 We have already mentioned QuickBooks' product, so it will be only fair to review its employee time tracking app. The more so that this tool is adored by Capterra'sa and G2's audiences even despite its a bit unfriendly price tag. However, you get a nice choice of features in return, which makes QuickBooks Time worth your attention.
Team Management
The app has everything you need to customize your experience and ensure accurate time tracking. You are offered to specify your company's details and upload its logo, choose a preferred time zone and date format, configure pay periods and overtime calculations, among many other settings. Mind that the overtime configuration can be later linked to notifications that will help you avoid double-time and employee burnout.
In the Company Settings, you also set permissions for your staffers along with multiple notifications and reminders. The latter ones cover actions performed with notes and time entries, schedule changes, time-off requests, and more. And yes, the app allows creating a time-off policy with pre-set or custom codes and different access levels for employees and managers, which is an out of ordinary opportunity for an employee time tracking app.
While you won't be surprised to learn that team members are invited via email, QuickBooks Time can still wow you with the abundance of information on your staffers to be stored in the app. From roles and permissions to hire dates and payroll IDs, you will be able to find everything related to a certain employee in the My Team section.
What is somewhat embarrassing about the app is how it handles Customers. In fact, a Customer is not a client for whom you perform a task but anything you track time against. It is not a usual approach, but you are more flexible with what you would call a Customer: it can be a job, an event, or a company, and you can define it by using multiple ready-made and custom fields. And surely, QuickBooks Time wouldn't be mentioned among the best employee tracking apps without the possibility to create projects, add tasks, specify budgets, and track progress in real-time.
Time Tracking
One-tap clock in/out is the centerpiece of the QuickBooks Time app. As it is available for both desktops and portables, each of your employees will be able to open the Time Clock feature, select a job or task assigned, and add the start/end of working time to a timesheet. They can switch between assignments with the same ease and add breaks to their timeline by pressing the corresponding button.
Creating a manual time card is another option where employees enter all the hours spent on performing work-related tasks in one go. They can create time entries for any day of the week and even copy their regular working hours from week to week to save time.
QuickBooks Time apps for Android and iOS portables add geofencing and automated reminders for your staffers to clock in/out while retaining the other possibilities. They are designed to record millage as well, although these features are available in the Elite plan only. However, GPS trackers work fine even in the cheapest version, so you will be able to view your mobile workforce locations in real-time.
A stellar solution from QuickBooks Time is the Time Clock Kiosk mode that allows turning any device into a single clock in/clock out system for a whole team. It works on tablets and desktops and features facial recognition and four-digit PIN codes designated to employees. All the data from the device sync with QuickBooks' timesheets to make payroll and invoicing a breeze. GPS tracking is also in place for supervisors to know for sure where each entry is coming from.
Users can add notes and attach photos to their time entries to keep their managers well-informed and provide proof of work. In their turn, employers and managerial teams get access to hours logged, project views, schedules, and reports to stay on top of things.
Scheduling
Employers will appreciate fast and easy scheduling with QuickBooks Time since it brings planned and done jobs into one place for convenient team management. You select a date/time/customer to create a job, drag and drop it into a vacant time slot of an employee, and alert the worker about the new assignment within seconds. In the same way, you can construct shifts, assign them to staffers, and send corresponding notifications. The schedules are editable, and you will be able to tackle urgent issues on the go thanks to the mobile-friendly functionality.
Finance Management
It's kind of expected that this employee time tracking app readily integrates with QuickBooks Online for automated invoicing. However, you are not tied to this accounting solution since QuickBooks Time comes with other integration options, such as ADP, Square Payroll, PaymentEvolution, and more.
If your account is not integrated with third-party apps, you will still be able to bill your clients with little effort thanks to the Invoicing add-on. Here, you will customize your invoices, turn jobs into billable items, set per hour rates, and generate PDF files with all the required information accurately filled in.
Meanwhile, timesheets and reports provided by QuickBooks Time are good enough to ensure painless payroll, billing, and job costing. You just need to configure billable hours, paid breaks, time-off policy, overtime, and other required data for the app to couple them with hours logged. Upon reviewing and approving timesheets, you can create payroll, project, or employee wage/hours reports and export them to a PDF, Excel, or CSV file.
Pricing
QuickBooks Time is not easy on the pocket, as its entry-level plan costs $8 per user/month plus $10 per month in a base fee. The second and the last option is the Elite plan, which costs $10 per user/month plus $20 monthly. You can get a 30-day free trial, but you will have to pay double the cost of the base fees in this case.
Pros
Offline functionality and real-time monitoring
Cloud-based platform with desktop apps for macOS, Windows, and Linux, mobile apps for Android and iOS
Perfect for mobile workforce
Cons
No performance reports
No user behavior management
Overabundance of features for an average company
6. Time Doctor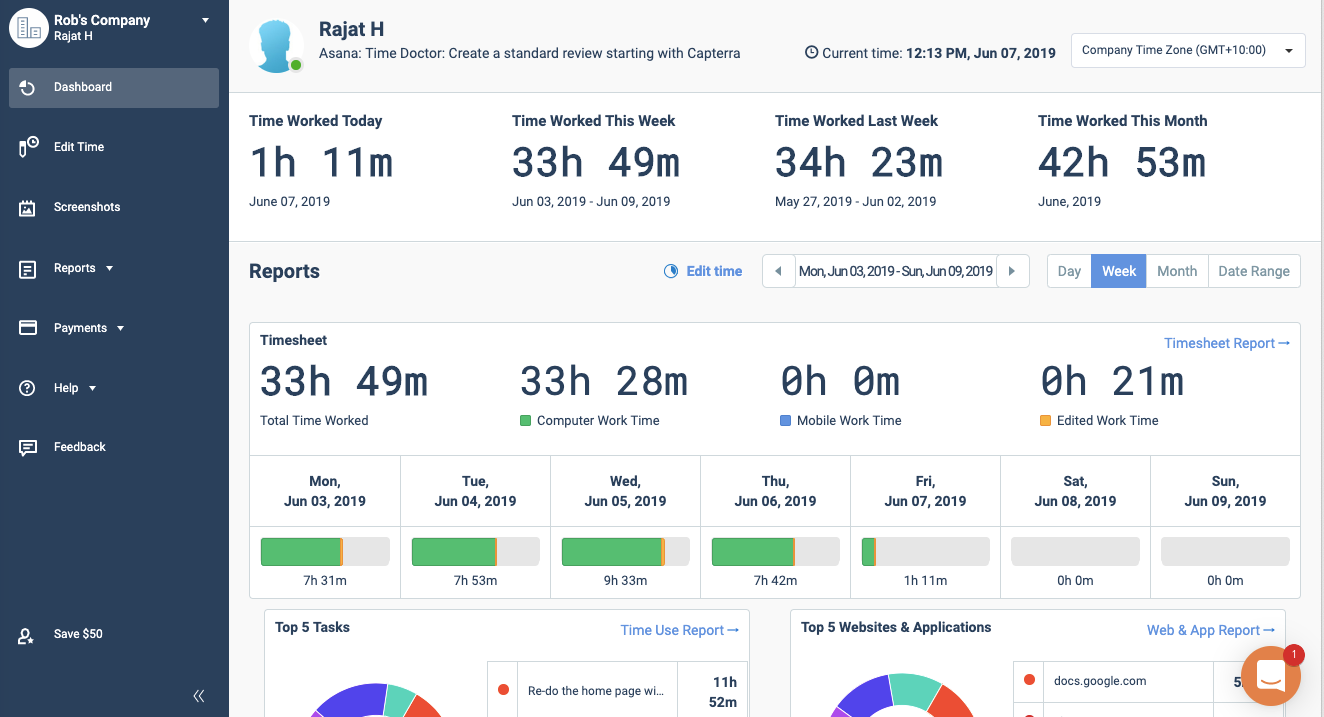 PCMag has recommended this employee time tracking app as one of the best solutions to use in 2022 for its versatility, as Time Doctor covers pretty everything from project management to computer usage monitoring. Although the full suite of features is a bit pricy, you may find it balanced enough to take on board.
Project and Team Management
Unlike most employee time tracking apps in our list, Time Doctor doesn't insist on creating projects or jobs before it starts measuring time. On the contrary, you need to make sure that this option is enabled in your Company Settings if you want to get a basic range of settings to manage your workflow and track progress on assignments. Anyway, the app has a dedicated tab for creating projects, adding tasks, and assigning them to employees or teams.
The same goes for scheduling — you need to activate the Work Schedules feature and then upload a CSV file with shifts specified. While you can introduce minor changes to schedules right in the UI, you will have to tinker with CSV files in all other cases, which might be inconvenient. However, you won't be able to receive Attendance reports without prior scheduling.
You can also configure payroll by toggling on the corresponding feature and specifying a user, pay rate, currency, date range, and payment method, while the app will transform data from timesheets into a document ready for client billing or employee pay down. You just need to export it as a CSV file and upload it to PayPal, TransferWise, Gusto, or ADP.
Time Tracking
As an employee time tracking app, Time Doctor brings together manual and automated tools to ensure both accuracy and flexibility. It has a timer sitting right on the default page, so users can start recording their time straight away, without even opening projects and tasks. This option is suitable for those employers who want to check the duration of work sessions and breaks without exploring time distribution across tasks. On the other hand, launching the timer in assignments allows evaluating total time expenditures and individual contributions by project or task. Since Time Doctor integrates with 60+ business apps, your employees will also be able to use the timer feature exactly where they are working, be it Hubspot, Zoho Office Suite, or Slack.
Manual time entries are allowed as well, although not for regular users. While admins and the account owners can edit work logs by default, employees can be granted this opportunity to add time spent performing work-related tasks outside their computers or fix other inaccuracies. At all events, the Edit Time feature comes with fields for specifying a reason behind the adjustments while the app shows which time entries are made manually for you to keep the situation under control.
Besides, this employee time tracking app records the user's interactions with the mouse and keyboard to differentiate between active and idle time. Depending on user roles and specific workflows, you can set idle time values to time out your employees even if the timer continues clocking. This feature serves to provide a fair and square view of actual working hours and performance.
We have already mentioned Attendance reports, which register your staffers as present, absent, or late and display planned shift start time vs. actual time, shift length, expected hours vs. actual hours worked, etc. Both employers and employees have access to dashboards where the information collected is conveniently stored and handsomely visualized in timelines, activity summaries, and other reports. However, regular users can view their own data only, while managers and admins are permitted to explore the Team View dashboard.
Activity Monitoring
In addition to time tracking, Time Doctor monitors websites and applications opened on work computers. This information is used to provide proof of work, uncover time-wasters, and generate productivity metrics. With this aim, the app offers to label resources as productive, unproductive, neutral, or unrated and set different levels of productivity for a company, a user, or a team. Based on these settings, it calculates productivity ratings for your workforce.
The employee time tracking app also captures users' screens to add context to logged hours and implement real-time monitoring. It records the screens in two ways: as screenshots taken at specific time intervals or continuous three-minute video pieces.
Surely, it's up to you to decide whether to use this feature or turn it off as well as which privacy settings to choose for websites and apps monitoring. You can disable this option entirely or limit it to tracking without displaying URLs and page/window titles if you want a more employee-friendly solution. Since Time Doctor supports the non-intrusive approach to employee monitoring, it also allows blurring screenshots to prevent private data capturing.
User Behavior Management
While the app cannot compete with Controlio in distraction blocking and setting behavior rules, it does offer some tools to promote a productive and healthy working environment. One of them is idle time tracking converted into pop-up alerts that remind users of their work duties. If your staffers don't interact with the mice or keyboards for a certain amount of time, the app asks whether they are still working and requires confirmation of their activity. Similar pop-ups can be configured for non-work websites and apps, such as Instagram or Reddit, to get your team members back on track when they stay on distracting platforms longer than allowed.
The "Most work-life balance potential issues" widget is another outstanding feature of Time Doctor, as it helps identify and prevent burnout, mental health problems, and underperformance. The widget displays employees who work too many hours, perform work-related tasks outside their schedules, or keep late hours.
Pricing
You can use this employee time tracking app for free in a 14-day trial version without a credit card attached. Their paid plans start from $7 per user/mo, but it doesn't include payroll, integrations, video captures, and app/website tracking. Most of this is covered in the Standard plan, which costs $10 per user/month, but unlimited groups and data storage are available for $20 per user/mo.
Pros
Offline time tracking and activity monitoring synched to an account
Desktop applications for macOS, Linux, and Windows, extensions for IE, Firefox, Safari, and Chrome, an app for Android
Plenty of integrations to expand the functionality
Cons
The need to switch between cloud and desktop dashboards
No apps/websites blocking
No email/file tracking
7. Replicon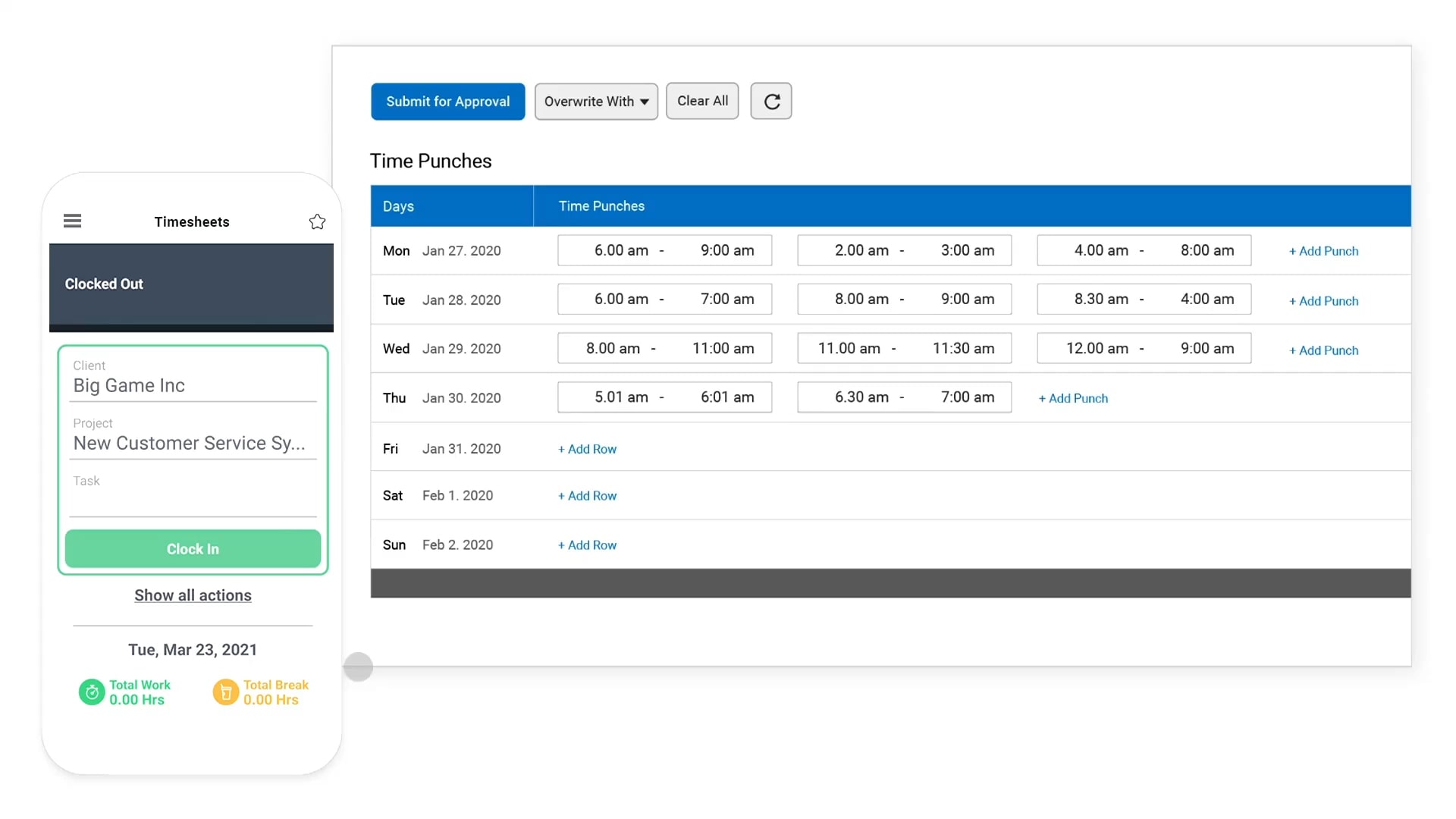 To put it more precisely, Replicon is not a stand-alone employee time tracking app but a whole suite of tools included in different packages to address specific business challenges. Thanks to the abundance of features helpful for SMBs and global enterprises, it has earned a Top Rated Time Tracking Software badge from SoftwareWorld.
Project Management
Replicon is known for its multi-level architecture, which can even seem excessive for small businesses but is just the thing for big corporations and organizations with a complex hierarchy. The roles offered within the app include admins, supervisors, client representatives, all kinds of managers, not to mention regular users and clients attached to projects. All the users can be divided into groups and teams depending on their roles and your business needs.
Projects are broken down at least into tasks and can have more elaborate structures to ultimately match your workflow. Each piece of work comes with a time budget, estimates, billable/non-billable hours, effective dates, and cost constraints for you to get a full view of project time and cost in real-time.
The app is packed with notifications to timely alert users of events, actions required, pending submissions, or new assignments. Also, your employees will be able to upload documents and attach links to projects, timesheets, or expense reports and store all the attachments at a single location. If you are still not impressed, Replicon adds multicurrency support, 20+ languages, and prebuilt/custom/scheduled reports on projects, users, clients, and more.
Time Tracking
This employee time tracking app boasts several methods of recording working hours to create accurate timesheets across office workers, remote employees, and a mobile workforce. Your staffers can use the Replicon web app with the Clock In feature to mark the start/end of each shift or track time against activities, projects, and tasks they are assigned to. The app will automatically start and stop recording working hours when users switch between jobs, which saves time and ensures continuous logging. The great and uncommon feature found in Replicon is capturing various break types: an admin defines, say, paid meal or rest breaks, and an employee selects the required type to add time. Also, the time entries can be supplemented with additional information.
CloudClock is a separate cloud-based app designed for iOS devices. By contrast with the web app, it solves the buddy punching problem by using an employee's QR card or Replicon login paired with the person's photo taken by the device. Supervisors can view an audit trail of the images while the data entries are transferred to the employee's timesheet and displayed via both web and mobile apps. The entire functionality of the web app is available in CloudClock, including recording breaks, plus your employees will be able to opt for voice commands when creating punches.
Replicon has mobile apps for Android and iOS devices, which work similarly to the web app yet with the added possibility to attach photos to time entries and real-time GPS tracking/geofencing.
There are also duration-based and in/out timesheets that require adding working hours manually. Supervisors can edit timesheets by changing time entry types or moving existing punches to other jobs, and you are free to configure corresponding permissions for your staffers.
In addition to setting breaks, the employee time tracking app allows creating shifts defined by a name, code, color, and description. The shifts are assigned to individual staffers or teams based on their availability and published for the workforce to view via CloudClock, the web app, or mobile solutions. As the employees log their working hours and breaks, you can track their attendance and compliance with the work discipline.
Finance Management
Replicon ensures seamless time entries transition to timesheets for further reviewing, editing, and approval by established people in charge. After the logs are approved, you can easily create documents for billing your clients or paying your employees. Surely, you need to enter pay rates, tax rates, expenses, and other details influencing the totals to be paid. The app covers it all and allows factoring in overtime, holidays, premium pay conditions, reimbursable costs, and more.
Some of its opportunities are worth special attention. For example, Replicon offers a library of pre-defined pay rules for US states, Canadian provinces, and some European and Asian countries to ensure your company's compliance in a hassle-free way. It also works fine for setting custom overtime policies, starting from hours worked beyond a number specified for a single day and ending with complex templates for California Overtime Rule. Employers are provided with a bunch of settings to track expenses across projects and clients while their staffers are allowed to add their individual expenditures to assignments and prove them with uploaded receipts. The Time Off functionality covers simple time off booking by employees via the calendar with a choice of pre-set reasons ranging from family emergencies to vacation leaves.
To sum up, Replicon delivers more than just average customizable invoicing, payroll, and costing. It lets you handle all your money matters within a single platform and receive valuable information through multiple reports.
Pricing
Replicon offers four products distinguished by functionality, and each of them is provided in two options. For basic time tracking, billing, and project management, you are likely to need the starter TimeBill suite, which is available for $60 per month for a team of up to five users. If you want to expand your opportunities, you will need to pay $10 per additional user or switch to the TimeBill Plus plan available for $22 per user/month. There is also a 14-day trial you can avail of.
Pros
Integrations with numerous project management systems, CRMs, ERPs, and other digital solutions
Various default reports and customizable report templates
Perfect for global enterprises
Cons
Confusing choice of tools scattered across packages
No distraction blocking
Complexity of settings
8. Toggl Track

You would love to join the Toggl Track community if looking for a less arty-farty yet comprehensive solution to run your projects and manage your teams. Keeping in mind that this employee time tracking app is available for free, we are not surprised that it is recognized among 2022 employee monitoring leaders by GetApp.
Project Management
Toggl Track creates a separate workspace for each organization, which is useful when you work with different teams or have multiple projects that you want to run independently. You can apply specific settings to each workspace and then switch between them without the need to change team member rights, alerts, integrations, and other options.
However, you will still be able to create projects, define them with a color of your choice, connect them to clients, break them down into tasks, and turn them into billable or non-billable in any workspace. The projects can also be marked as private or public depending on the access level granted. You invite your employees via email and make them Regular Users, Project Managers, or Workspace/Organization Administrators. Each project can have individual users or whole groups assigned to them, and you may allow your staffers to add projects and clients too. The possibility to create tags and attach them to projects comes in handy when users need to deliver additional information or better sort out their assignments.
For easier invoicing and real-time project tracking, you are welcome to specify an hourly rate, currency, and time estimate, which are then translated into valuable forecasts, insights, and reports. They will show you clocked and remaining hours, total time tracked and daily average, earnings and a percentage of time entries made towards each project so that you always stay on track. You can also set up alerts to inform you about reaching a certain percentage of completeness to make sure you are meeting deadlines. There are plenty of filters to quickly find any data and generate various reports depending on your needs. You can save the reports right in the app or export them to PDF, CSV, or Excel files.
Time Tracking
The Timer tab and its start button are the first things users will see upon entering the Toggl Track platform. As such, they will be able to give a name to the piece of job they are going to perform and hit the timer right off the bat to create a time entry. However, they have an option to add a job description, link the entry to a project, label it with a tag, or mark it as billable later. When switching between tasks, users can continue recording working hours after interruptions by pressing the timer within the tasks. The Favorites bar is the feature we really like, as it places your most frequent or urgent tasks on the top of the Timer page for quick access.
The Timer Mode also allows logging jobs manually based on their duration, which is helpful for registering working hours spent outside the computer. If a user happens to forget about starting the timer, there is the Manual mode in place to specify what was done, for which project, and how much time it took. The possibilities of manual entry are further extended to a calendar available through both Daily and Weekly views. Here, users can add jobs with the whole set of descriptions, the start/end time, and the duration. The drag and drop feature allows adjusting timelines in the blink of an eye.
With the help of Toggl Track's extensions for Chrome and Firefox browsers, your team members will be able to use the timer in 100+ popular apps and in any text on the Web. And they won't miss to trigger it thanks to reminders popping up whenever the browsers are used with the timer turned off. They won't also ignore breaks required to stay alert and productive if they enable the Pomodoro Timer on the Toggl Track tab.
Activity Monitoring
Meanwhile, some employers may feel unhappy with so many ways of time entry editing provided by this employee time tracking app. But Toggl Track backs up the data with the help of computer activity monitoring that runs in the background. Although this tool is accessible via desktop apps only, both parties will benefit from enabling it.
The app starts recording each website or program when a user views it for over ten minutes. The information collected is displayed in the Activity Timeline, which shows each day in 15-minute increments with the event title and its duration attached.
So, employees can use this info to recollect work-related activities they fail to enter into their timesheets. Moreover, they are less likely to forget about starting the timer with the Autotracker that delivers corresponding prompts based on the software currently in use. Besides, the browser extensions feature idle time detection with a notification launched when a user fails to interact with the mouse or keyboard while the timer is running. In their turn, employers will appreciate the opportunity to receive proof of work while both staffers and their bosses will be able to see non-work activities and time wasted on them to implement some improvements. However, mind that this feature is not designed to automatically create time entries or assess performance.
Pricing
In addition to a 30-day trial, this employee time tracking app offers an absolutely free plan for a team of up to five people. You get unlimited users with the annual payment of $9 per user/month, but this option is also limited in functionality. The Premium package costs twice the previous version and includes everything except multiple workspaces under one organization. This feature and some enterprise-tailored solutions are available upon request.
Pros
Simple all-in-one solution
100+ integrations with the most frequently used business apps
Web app, dedicated apps for iOS, Android, macOS, Windows, and Linux, extensions for Chrome and Firefox
Cons
No distraction blocking and insider threat prevention
No performance metrics
Background tracking is available in desktop apps only
9. TimeTrack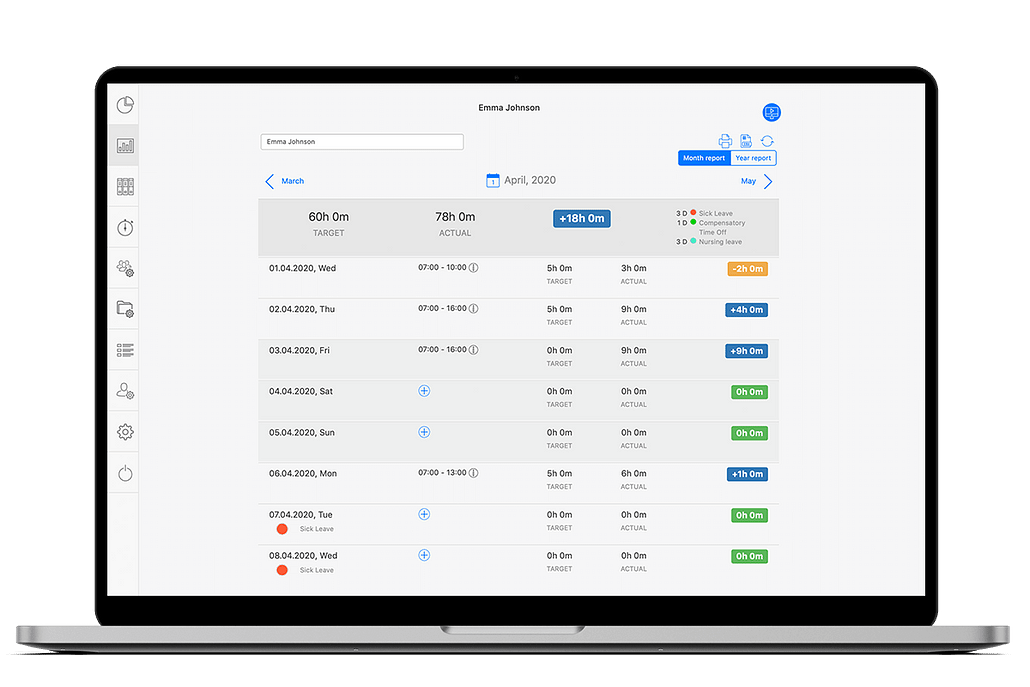 If you are hunting for the most affordable employee time tracking app but don't want to settle for a lesser functionality, you should definitely direct your attention to TimeTrack. It's not as famous as the above-listed solutions, yet it has earned positive reviews from the Capterra audience and gained a bunch of high-profile clients.
Project Management
Probably, it is a kind of European approach to arranging user interface elements, but you won't find projects, users, and clients visible on the sidebar of the app. However, they do sit there, hidden in the Data Administration tab. While you may find this unusual, you will be surprised by the app's lavish settings, which allow tailoring project management to your company's specifics perfectly.
You start with setting up profiles for your employees by entering their names, email addresses, and IDs, distributing user roles and up to 60 permissions, specifying their departments and other details. In addition to hourly rates, you assign a Working Hours model for each user, including the number of working hours per day, leave days, holiday and break schedules, and even surcharge rules. To make this journey less tiresome, the app offers a library of county/state-specific regulations, which can be applied to all the users in one click.
You don't need to tinker with entering your clients manually either, as there is an option of importing your customer data through a CSV file. In the same way, you can upload your activities and projects or opt for creating them manually. In projects, you establish an hourly rate, estimated duration, and total budget while you can also define tasks within a project and plan their duration, budget, and expenses. Surely, you should link the assignments to clients and users to fully organize your workflow within TimeTrack.
When everything is configured, you will be able to view planned vs. actual hours and costs for each project with a percentage of completeness and a tasks/time entries breakdown attached. Besides tracking progress on your projects in real-time, you get a powerful reporting tool to evaluate expenses, employee performance, time resources, and more.
Time Tracking
This employee time tracking app comes with a little twist, as it differentiates between recording time in project and logging working hours.
For the first case, there is a timer in the Project Time Tracking section to record hours towards a client, project, or activity. Contrary to the common scheme, it inserts time entries into a weekly overview instead of a timesheet. However, if you want to generate a timesheet based on the time logged via projects, you can select this option in the Data Administration settings.
The timer is available in both web and mobile apps, and it keeps tracking time offline. As soon as your employees get back online, the app will add their time entries to the overview. Weekly overviews display the start/end time of the activity, its duration, and break times for each project and calculate working hours entered per day and week. The timer memorizes the last assignment a user was working on and suggests continuing from that point if the work is interrupted.
Time entries in projects can be made manually as well, by both an employer and employees. Users have the possibility to supplement entries with tags, upload attachments, and indicate breaks along with start/end time and hours worked. It is easy to make adjustments to a timeline in the overview using the drag and drop feature and to create bar charts comparing time worked, earnings, and expenses across days of the week.
Time Clock is another timer that lives in the Attendance Tracking tab. It is designed to measure working hours outside projects and to populate timesheets of the users who are assigned to this Working Hours model. They clock in and out by just pressing the button in their web or mobile app to get their start/end time, breaks, and working hours saved to timesheets. The same data can be logged manually by staffers and viewed by employers in the Attendances section. For mobile users, GPS tracking and geofencing with an auto clock in/out are available.
Employers will appreciate TimeTrack's automated break time deduction, which works based on applicable legal requirements or break schedules established by the account owner. The app recognizes this time when employees clock out and handles it correspondingly.
But TimeTrack's magic doesn't end here. With the help of a dedicated app, it turns any Android tablet into a single clock in/out terminal for a whole job site. Your staffers can use NFC/RFID tags, a pin code, or a password to log their start/end time and make it visible through the web or mobile app immediately.
Companies that work in construction, cleaning, or security services will be glad to take on board time tracking with QR codes. You will need a QR code generator to create a code with a customer and activity linked to it and print-outs or stickers for your staffers to scan them for recording project hours.
Invoicing and Leave Management
TimeTrack's timesheets capture all working hours along with breaks, overtime, and every kind of absence. You can use a pre-set choice of leave types or configure your own list. Anyway, the app allows you to decide whether to count an absence as a regular leave day or as a reduction in hours.
Moreover, your employees can apply for time off right in the Leave Management section, and managers can approve or reject the application with a single click. Approved leaves are stored in the app and displayed in a holiday calendar for all the parties to keep track of the work schedules. Employers can get a report on each team member to learn how many paid days off are taken along with the remaining amount.
All the information gathered in the timesheets and reports can be filtered as you need and transferred to a PDF, CSV, or Excel file for payroll and accounting purposes. However, creating invoices is a doable task within the app. You just need to select a client and fill in details like a tax rate, discount, and due date, and the app will add all the services provided to the client within a specified time. You can also filter by expenses to attach them for billing. This employee time tracking app is perfectly suited to craft custom invoices with a logo, preferred layout, and additional fields.
Pricing
TimeTrack provides its would-be users with a 14-day trial. After it expires, you can connect to the Standard plan, which costs $4 per user/month if billed annually. The plan covers basic project time, attendance, and expense tracking. The Premium package costs $8 per user/month with report management, project planning, and analysis, while you will need to pay $10 per user/month to add invoicing and integrations to the list.
Pros
Online and offline time tracking
Web app for any PC or Mac; iOS, Android, and Windows Phone apps; extensions and add-ons for Chrome and Firefox; TimeTrack Terminal App, and on-premise deployment
Integration with QuickBooks
Cons
Time-consuming setting up
No computer activity monitoring
Few integrations
10. Everhour

This employee time tracking app may look in no way different from the already-mentioned multi-feature solutions, but it has a couple of hallmarks that put Everhour on Capterra's Emerging Favorite shortlist.
Project Management
Your voyage of discovery into Everhour starts with creating a project, specifying a client, and defining tasks within the job. Projects are marked as billable/non-billable, with a wide choice of granular settings provided for each case. Namely, there is a checkbox to ban tracking time over a budget and email notifications sent when a certain budget threshold is reached. You can add a due date, tag, and description to a project if needed and use color-grading to distinguish between projects, tasks, and tags. Each project comes with configurable access levels: you make it visible for your whole team or selected members and define who can manage the job.
The app stores all the projects, including those transferred from integrated resources, in a plain list view, showing their money or time progress and main details like employees, expenses, or billing status assigned. You can get a project summary in one click to learn time logged towards the job, hours tracked with a timer, costs, profits, time breakdown across tasks, and more. What we like about Everhour is its kanban board implementation, which allows creating to-do lists for tasks within projects and tracking their progress through customizable stages with the help of the drag and drop feature.
The Team page serves to invite employees and contractors to the platform, assign them to jobs, and identify their roles and privileges, ranging from regular members with no access to money-related information and up to admins with full access to all data and settings. Everhour features scheduling as well, where you can create assignments for a project or client, book paid vacations and unpaid time off, mark sick leaves, track planned vs. logged working hours, monitor overtime, and more.
Employers can view key metrics on projects, tasks, employees, clients, and expenses in several ways, including visualizations right on the home page.
Time Tracking
Thanks to a decent choice of integrations, covering Asana, GitHub, Basecamp, Jira, Trello, and some other well-liked apps, Everhour delivers its timer and timesheets right to the place where your workforce is actually working. Chrome and Opera browser extensions provide an opportunity to click on the timer icon without even opening the Everhour website. And there is an app developed for iOS devices for your staffers to track time on the go. Although the mobile app is the most limited in functionality, all the other options work fine to log working hours in different ways.
First of all, you will find a built-in timer in the Time tab, which can be launched outside projects/tasks and complemented with a comment explaining the time entry. Selecting a project and task is a more common way to record time, but users are free to link the jobs later, as well as they can trigger the timer from their lists of assignments in any tab where they can be observed. The entries are grouped by day of the week in the List tab, where employers or project managers can approve them immediately.
Manual entries are also supported and made with the help of the Add Time button available throughout projects and tasks. Users can specify start/end time or a total number of hours to be added and leave a comment explaining the entry. Editing time in timesheets is another way to go, for example, for supervisors, who can also insert time off, adjust tasks, or approve working hours to include the most accurate data into reports and invoices.
The Timecard tab is specifically designed for clocking in/out and recording breaks regardless of projects. This solution allows handling salaried workforce and shift work. For real-time tracking, Everhour provides the Timers page, where all currently working team members are displayed along with the tasks they are biting on.
Finance Management
Since this employee time tracking app is designed with invoicing in mind, we recommend giving full play to its client settings like the company's address and VAT, tax and discount applied, invoice due terms, and so on.
Project billing settings are even more impressive, as they are perfectly tailored to both invoicing and project management. If you are interested in the second option only, you can go with assigning total hours and costs or defining no budget at all. For billing purposes, you are offered to select hourly project/members rates or a fixed fee and establish a budget based on total hours, costs, billable amount, or other criteria. To provide you with higher flexibility, Everhour allows marking tasks as billable or non-billable regardless of the project status. You can also configure excluding non-billable time from budget calculations.
Besides, it's up to you to decide whether to exclude billable expenses from automated calculations or leverage this option to the fullest. The app has a dedicated tab for managing expenses either billed to a client or incurred by your employees. You create expense categories, assign a unit price, add a description, attach receipts, and choose whether to include an expense into an invoice, calculate it as internal costs, or keep it uncalculated.
When all the settings are perfectly tuned to match your business needs, you can proceed with constructing invoices in the corresponding section. The app will collect applicable data per client, project, and time span, and you will only need to edit it and send the document to the client, download it as a PDF file, or export it to QuickBooks, Xero, or FreshBooks
Pricing
Everhour's pricing policy is easy to understand since the app is available for free in a 14-day trial version and has only two paid plans. The cloud-based option will cost you $8.50 per user/month if billed yearly, although a 5-user minimum fee applies. The server-based version is available on request.
Pros
Time off policy
Kanban-style to-dos
Highly accessible web-based app with browser extensions
Cons
No performance metrics
No activity monitoring
No distraction blocking
In Wrapping Up
While there is no one-size-fits-all solution in the diverse world of employee time tracking apps, you have every chance to find the best one exactly for your business, based on the price, platform, and, of course, set of required tools. We've described pretty much all the features you can find in modern time tracking software for businesses. So:
Start by compiling your own list of preferences to pay only for those that work towards your business goals.
Avoid grabbing too many features since this is not only costly but also inefficient. You and your team may end up overwhelmed with settings, thus losing time and focus instead of gaining both.
Make sure to avail of free trials and pay close attention to the learning curve and the quality of customer support.
Don't forget to test integrations if allowed, as they are frequent bottlenecks in the onboarding process.
Learn available plans with a magnifying glass to ensure you get what you want.
And when you are ready, go for your employee time tracking app since it can really level up your business!
Article Photo © J | Flickr
Share a post