Internet Usage Policy
Today many companies consider necessary the application of Internet usage policies for employees. Monitoring of access to the Internet allows:
To lower risk of infection by harmful Software
To reduce % of no-purpose use of working hours
To lower risks of information leakage
There are 2 types of solutions for internet access control: centralized and decentralized. The first are concerned with firewalls and proxies-servers. These systems are established on one server through which all computers access the network. They are most extended and occupy an overwhelming share in the market of solutions for Internet usage policies. Nevertheless the centralized decisions possess a number of lacks:
Complexity of expansion
Absence of the information on time spent on web sites
Monitoring only general channel Internet
More recently the decentralized solutions solving all designated problems have become available - decentralized Internet usage policy systems. They are based on client-server technologies and
Do not depend on a method of access to the network
Are easily developed in any network
Collect the information on use of time of the use
That is you do not need to get involved into, how your network is arranged how to adjust computers on a proxy server, and other questions. It is enough to remotely install only client modules from the operating program on computers of users - and bingo, your network is under control!
One of such decentralized solutions of application of Internet usage policy is Work Examiner. With it you establish client modules on all computers with just a couple of clicks, specify what sites you wish to block or allow access to and will easily supervise, how much time, instead of megabytes, is spent by users in blogs, games and Network chats.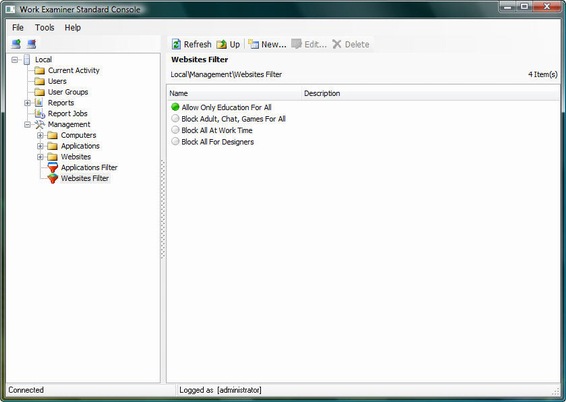 For example, you can block completely access to the Internet for accounts department, and partially allow web surfing for department of sales in the specified days or hours.
See also