All posts
Top 8 Remote Work Software Solutions for 2022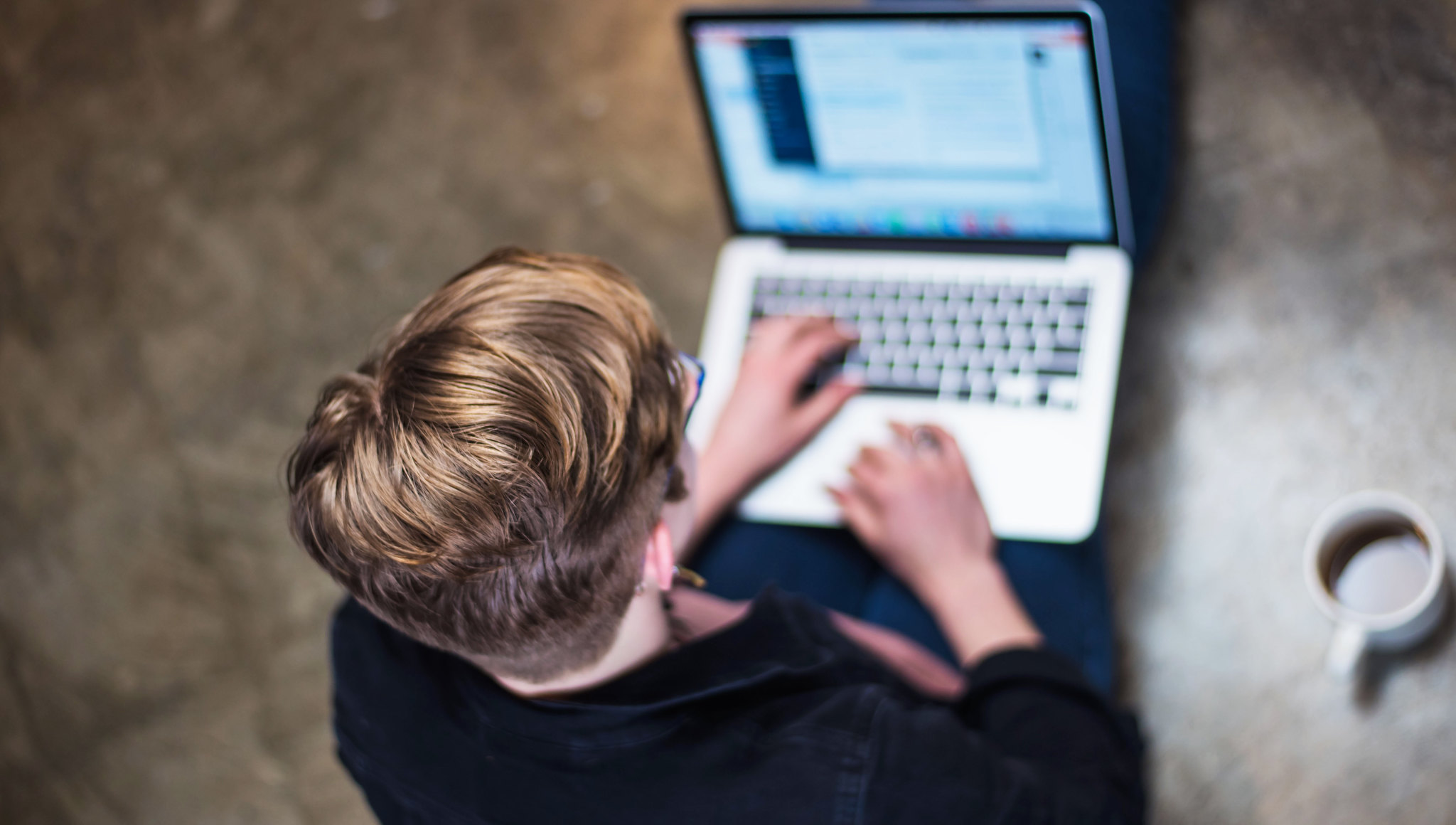 The job market has been changing dramatically, with more and more companies hiring talents from around the world to work remotely. This transformation is heavily fueled by the advancement of digital solutions connecting people via the Internet. The outbreak of COVID-19 has only accelerated the overall digitalization, as many businesses have moved online due to lockdowns. However, arranging a smooth workflow for a remote team is a tricky task, especially for those used to managing people in a traditional office environment. That's why we have created a shortlist of remote work software solutions that can help you embrace the new normal in 2022.
1. Controlio – remote employee monitoring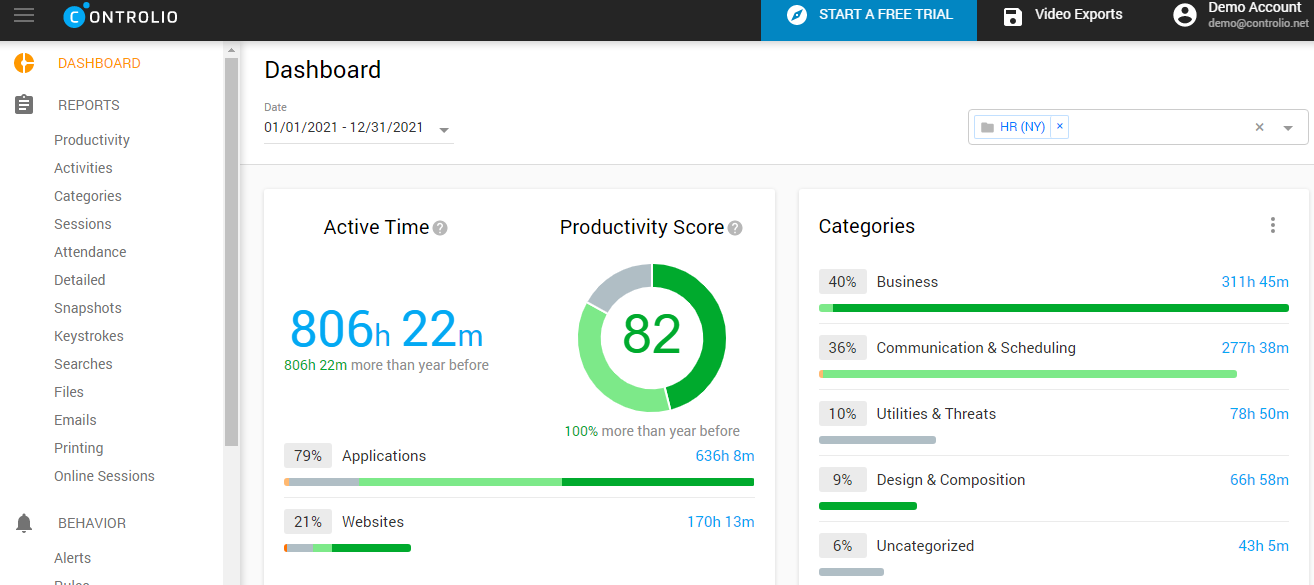 One of the biggest WFH-related fears for employers is a productivity drop. Unable to provide in-person supervision for their teams, business leaders believe that the staffers will fail to cope with multiple distractions. Controlio helps both parties, tracking who is doing what and when.
Coming in web-based and on-premises versions, the app records activities performed on Windows and macOS-powered desktops and transforms the data into user-friendly reports. It calculates productivity scores, showing how efficiently your remote workforce uses its computers and working hours. Controlio keeps track of attendance, recording logins/logouts and active/idle/total time spent on the desktops. It allows assigning different productivity levels to apps and online resources to detect distractions, analyze the true value of these digital services, and make corresponding improvements. Some performance upgrades can be made immediately, as you can monitor your staff in real-time.
Boost Productivity
of Your Employees!
Contrilio's features are not limited to tracking only. The app is designed to deliver a proactive approach to performance issues. You can block distractive websites and apps, such as social media pages and online shops, or configure flexible access based on your business specifics. The monitoring and blocking features of Controlio reach beyond the productivity boost, shielding a company from many threats, such as inappropriate workplace behavior, malicious insiders, and external cyber-attacks.
Features
Real-time monitoring
Detailed reports on users, computers, and activities
Alerts on specific activities
Bans on distractive and risky actions
Screen records and live streaming
HIPAA/GDPR compliance
Flexible settings
Free trial
Pricing
Cloud — $7.99 per user monthly
On-premises — on request
Private cloud — on request
2. Zoom — video conferencing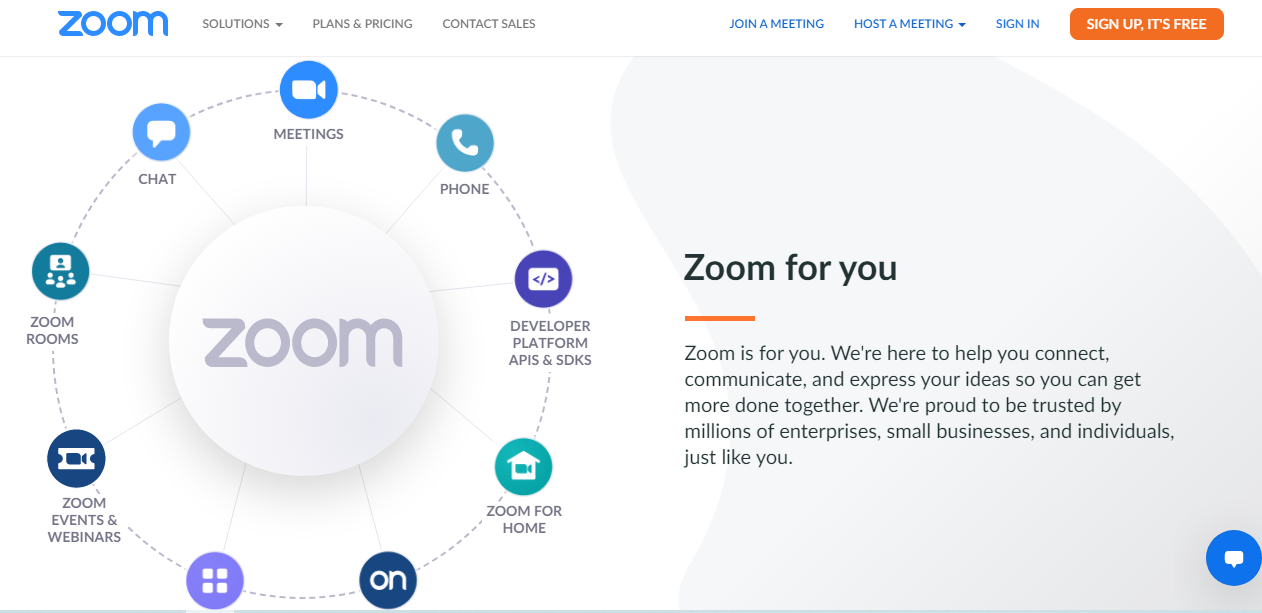 According to Atlassian, an average employee attends 62 meetings monthly, which is seen as excessive by many experts. Nevertheless, meetings remain an integral part of collaboration between teams and individuals, and even lockdowns cannot prevent employers from holding them regularly. The more so that they have such a flexible and sophisticated tool as Zoom.
The video conferencing platform can host audio and video meetings for up to 100 participants in its free version, which expands to whooping 500 or even 1,000 people in paid plans. Without spending a dime, you can communicate with your teams, clients, or partners for up to 40 minutes or opt for one-to-one conversations, which are almost unlimited. It is easy to invite participants by simply sending them a link to a meeting via instant messengers, email, or social networks. The platform is available via a browser, and there are apps for iOS and Android-based devices.
However, Zoom's functionality goes beyond meetings. The platform accommodates private and group chats, webinars, live streams, screen sharing, scheduling, and more. It allows recording, saving, and sharing files, along with multiple integration opportunities. And, of course, Zoom is praised for its excellent audio and video quality.
Features
Lavish free account
Add-on plans for better flexibility
Compatibility with Windows, macOS, iOS, Android, Chrome OS, and Linux
Audio and video meetings, webinars, and chats for group and private communication
Virtual events with built-in ticketing
Enterprise-level cloud phone system
Zoom for Home kit with compatible devices
Virtual workspaces
Pricing
Free plan
Pro — $14.99 per month
Business — $19.99 per month
Enterprise — $19.99 per month
Add-on plans — starting at $40 per month
3. Trello — project management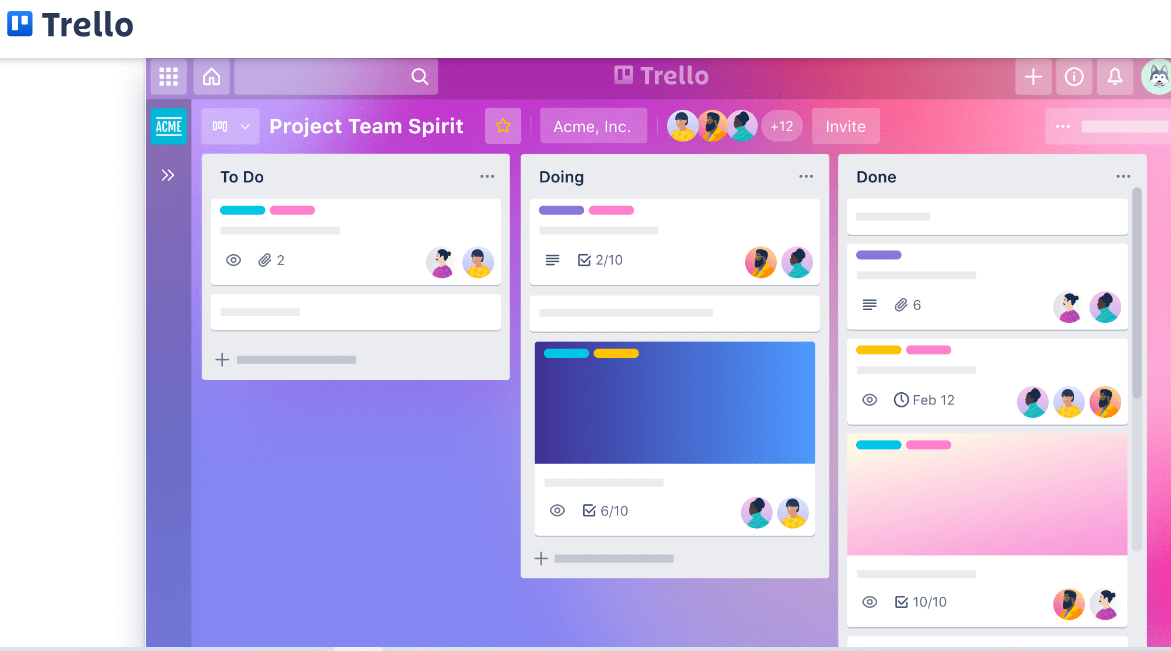 When many people work on different parts of the problem, it can be a mess. And the mess is likely to grow into a complete disaster when your team members work remotely and you cannot orchestrate the process for it to run like clockwork. Actually, you can if employing a project management tool like Trello.
This web service helps track and organize teamwork or personal projects to meet deadlines perfectly. Here, you can assign a task to one participant or an entire group, set deadlines for projects, share comments on workflows, create checklists, store and share files, monitor productivity, and enjoy other benefits of smart remote-work software. Based on the kanban method, Trello is easy to use since it breaks down the most complex projects into simple boards and cards, with all in-between tasks nicely visualized and streamlined.
The service allows for integration with many popular tools, including Dropbox, Slack, and Google Drive. It can be accessed via the most common browsers without downloads, but apps for desktops and portables are also available. Even its free version provides almost all the functionality with unlimited storage, integrations, and participants.
Features
Accessible through Chrome, Firefox, Safari, and Edge
Apps for iOS, Android, macOS, and Windows
Free plan with unlimited members
Huge library of templates
Custom backgrounds and stickers
Integration with more than 200 apps
Visualization of performance metrics
Pricing
Free plan
Standard — $5 per user per month billed annually
Premium — $10 per user per month billed annually
Enterprise — $17.50 per user per month billed annually
4. Google Drive – cloud storage for documents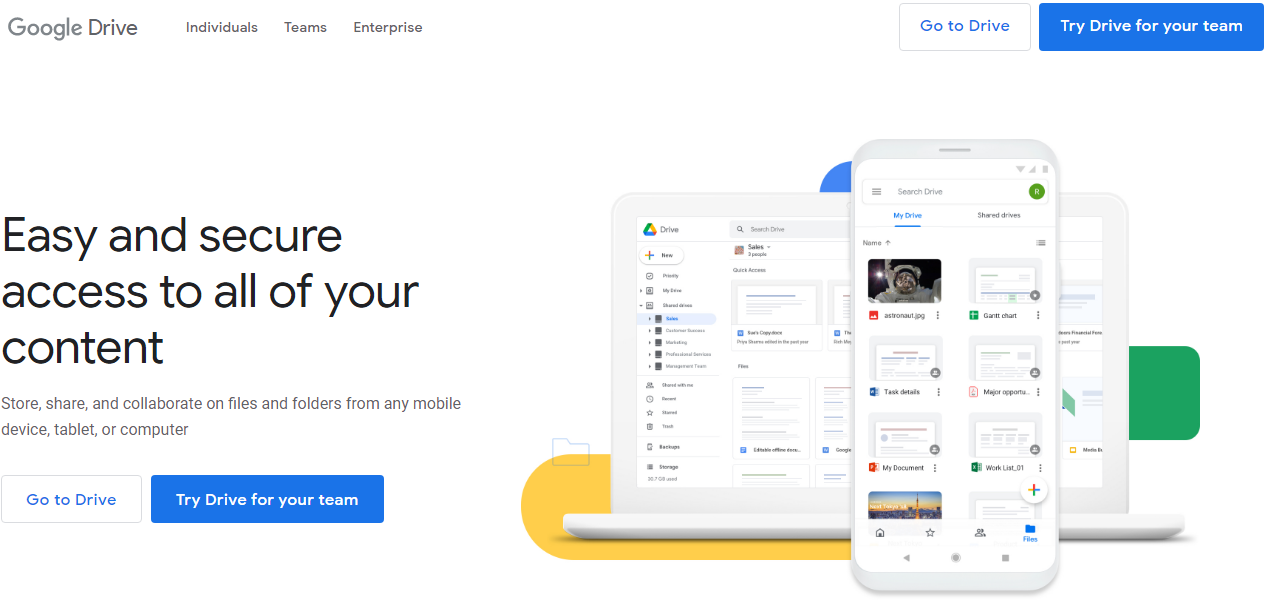 Sending documents back and forth via email is not the safest and fastest way to ensure a smooth flow of documents between members of your remote team. Cloud-based storage solutions are far more convenient, and Google Drive is the most accessible among them.
The storage is designed to save files in a dedicated place where multiple users can access and edit them if this privilege is granted by the account owner. The service allows for synchronization with all kinds of devices, so your team members will be able to access the documents via their PCs, laptops, tablets, or mobiles. You can smartly arrange files into different folders, use ready-made templates of various documents, filter your papers, and search through them with a built-in search bar.
The best thing we like about this storage is its integration with office applications from the Google Docs suite, which facilitates a collaborative effort on creating spreadsheets, presentations, forms, and other file types. The service supports over 50 formats, and even more file types can be processed with third-party apps. The free storage space of 15 GB is sufficient to start with, while it can be expanded to 30 TB with paid plans.
Features
File storage, sharing, and editing
Synchronization across multiple devices
Web interface and apps for Windows, macOS, Android, and iOS
Google Docs, Google Sheets, and Google Slides attached
Adjustable privacy settings for files and folders
Shared storage with Gmail and Google Photos
Offline access to the Goggle Docs suit
Dedicated solutions for individuals, teams, and enterprises
Pricing
Free plan
100 GB — $1.99/month
1 TB — $9.99/month
2 TB — $19.99/month
10 TB — $99.99/month
20 TB — $199.99/month
30 TB — $299.99/month
5. Slack — business messaging app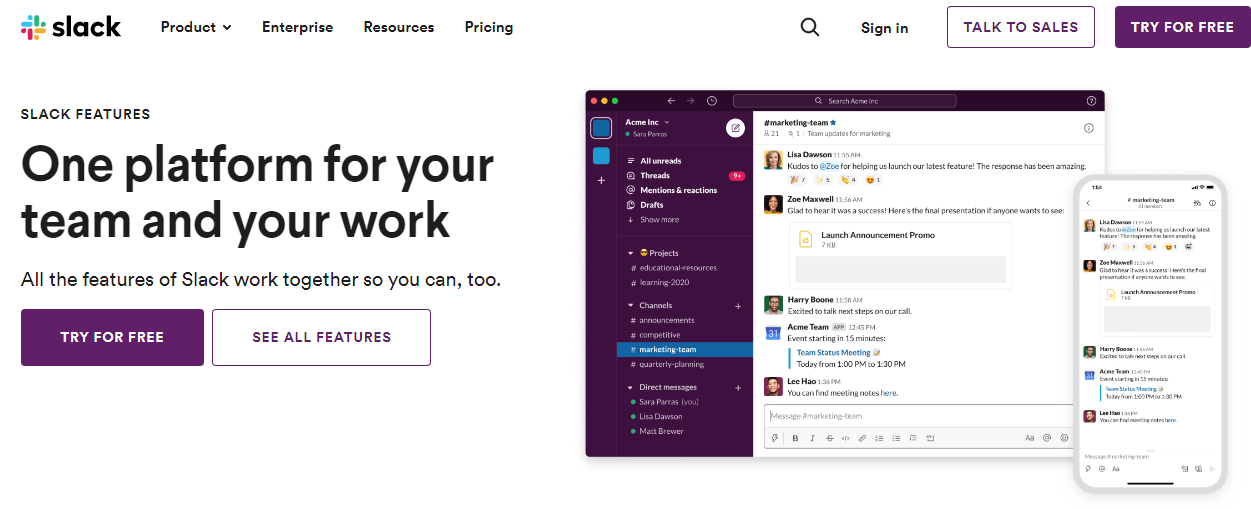 Surveys say that many remote workers have listed video meetings among the main distractions during lockdowns. Well, an instant messenger can be a better option in many work-related scenarios, the more so that they don't require any preparations or specific technical knowledge. And definitely, you should try Slack.
Actually, this remote work software is much more than a simple messenger, as it adds audio and video calls to messaging opportunities. The latter ones include real-time and asynchronous text messages along with group (channels) and person-to-person (direct messages) chats. Group chats are divided into public and private, but you can also invite up to nine people to communicate in a DM. Users join private chats via invitations or URLs sent by admins.
In Slack, you can create dedicated channels for each project or task, share files and screenshots, search through the content of conversations, start a live voice talk, receive mentions and notifications, and respond to messages with emojis. The communication tool provides awesome possibilities of integration with popular digital solutions, starting from Google Workspace and ending with RSS feeds.
Features
Highly structured environment
File, image, and video sharing
Searchable content
Push notifications
Audio and video conferencing
Accessible via a browser
Apps for macOS, Windows, Linux, iOS, and Android
Over 2,400 apps available for integration
Pricing
Free plan
Pro — €6.25 per user per month billed annually
Business+ — €11.75 per user per month billed annually
Enterprise Grid — on request
6. iSpring Learn — remote employ training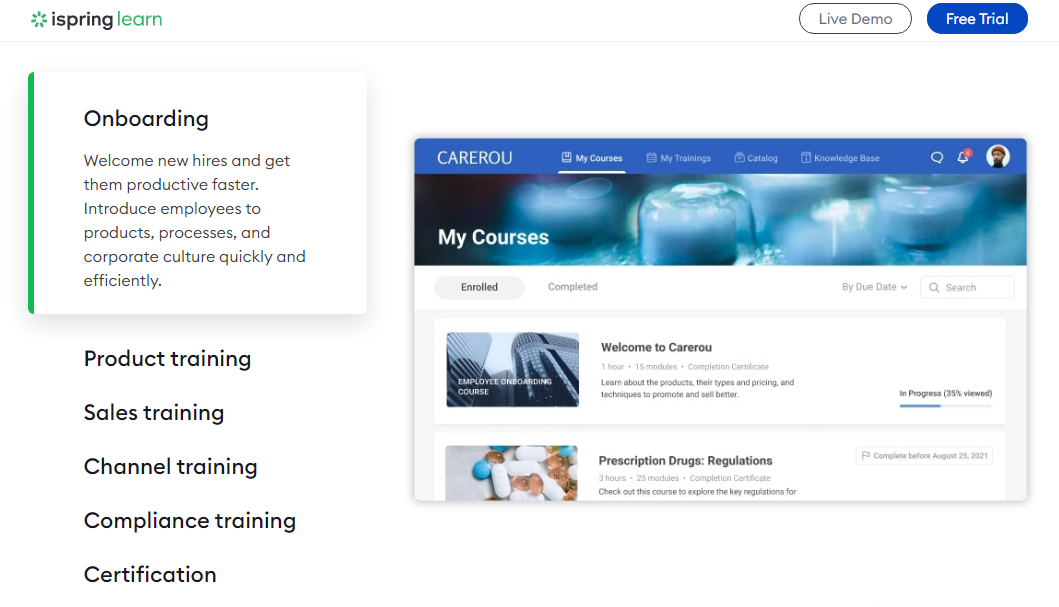 Surely, you can train your remote workforce through webinars, but it might be tricky to synchronize all schedules and paces of learning. This is where learning management systems come in handy, providing a platform for you to create and track e-courses. iSpring Learn is one such platform, which focuses more on the need of businesses rather than educational establishments.
Unlike e-learning behemoths such as Moodle, iSpring Learn is easy to master even having no technical skills. You don't need to configure anything and can start uploading training materials straight away upon signing up. Guidelines, instructions, presentations, or product updates are accepted in various formats, from documents to audio and video files. The app allows combining materials to build a learning path for your remote workers to smoothly transition from one step to another.
Multiple automation tools remove the need to waste time inviting, notifying, and tracking your staffers. The app also generates reports on attendance, learner progress, and even engagement. And you will have no problem with keeping your staff engaged since the LMS offers leaderboards, points, badges, quizzes, and other gamification features to inspire learners.
Features
Multiple formats supported, including SCORM courses
Unlimited storage space
Built-in course editor based on PowerPoint
Customizable to match an organizational structure
Branding and localization
23 report templates for gathering all kinds of stats
Integration with Zoom for online webinars
iOS and Android apps
Free trial
Pricing
100 users — $3.66 per user/month billed annually
300 users — $3.00 per user/month billed annually
500 users — $2.82 per user/month billed annually
Custom — on request
7. LightShot – screen capture tool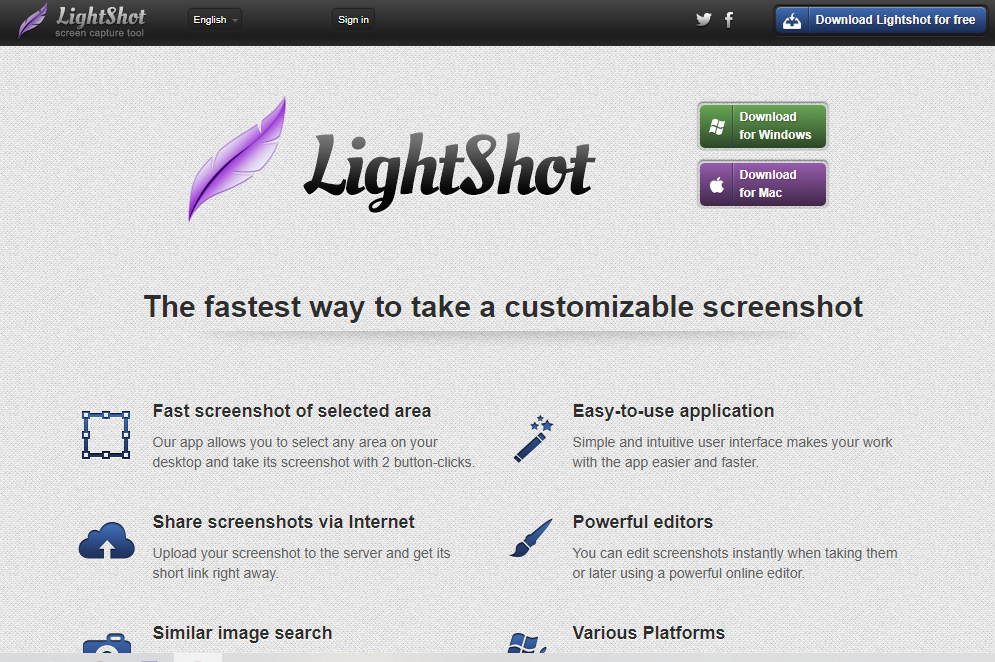 Sometimes, it's better to keep it simple and avoid overwhelming your remote team with feature-packed solutions. When you want to quickly provide an example, illustrate a problem, or highlight an important aspect, the only tool you may need is LightShot.
This app allows taking screenshots by pressing one hotkey. Then you just need to move your mouse, outlining the part of the screen you would like to capture. This feature removes the need to crop the image afterward if you don't need to show a full-screen picture. However, full-screen shooting is also available with hotkeys. As soon as the area for capturing is defined, you can edit the image by adding arrows, text notes, boxes, and other most used effects available in the sidebar right next to the picture.
Sharing a screenshot is no less easy. You can choose to upload the image to LightShot's server, which immediately generates a link for you to share it as you like. In this case, you will be able to view it later in your gallery. But you can also pass it directly to Twitter, Facebook, or Pinterest as well as save it on your device or print it out. All the features are totally intuitive, and you don't need to navigate through excessive buttons and tabs.
Features
Lightweight app running in the background
Full-screen and user-defined shooting
Easily resizable and editable
High-quality images
Automated uploads
Screenshots saved in a user account
Available as JPG, PNG, or BMP files on PCs
Compatible with Windows, macOS, Ubuntu Linux, and Google Chrome
Pricing
signNow — electronic signature software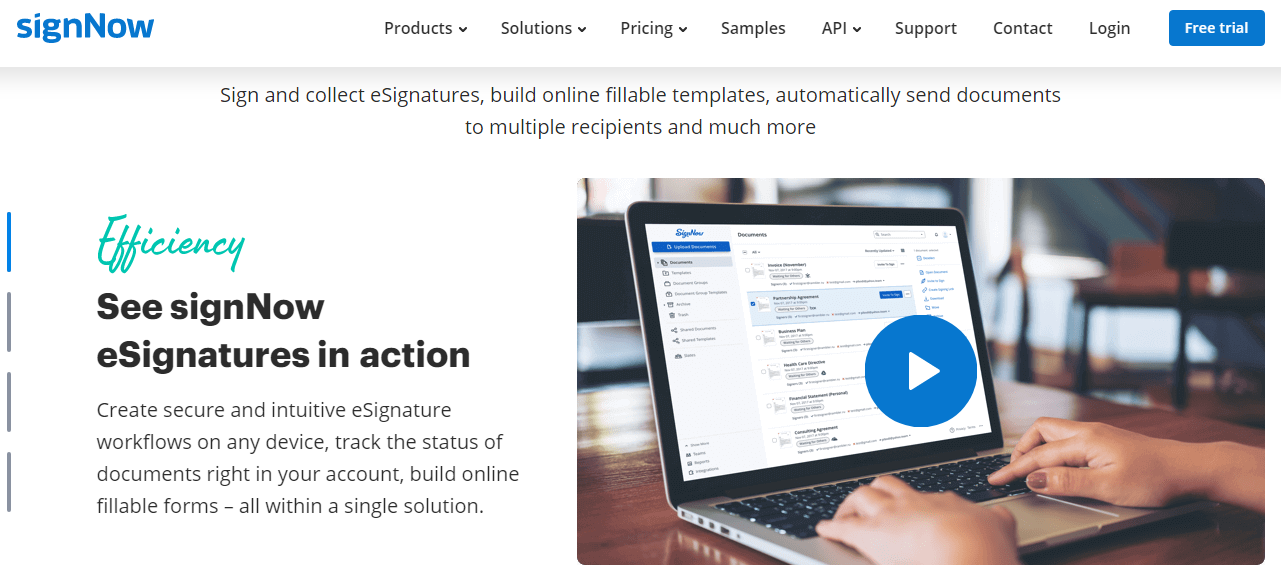 It doesn't matter how smoothly your workflow is running when it all can come to halt because of documents unsigned. Forwarding papers to collect all required signatures across a remote-work environment is no picnic, but you can cope with that thanks to signNow e-signatures.
This remote-work software combines the features of a reliable e-signature solution and convenient file storage. When you need to get a document signed, you upload it as a PDF file, assign a signer, and specify their email. The app sends an invitation to the person and provides a link to the system. The recipient can then access the document and sign it even without creating an account in the system. You can store the file in a designated folder or turn it into a template to save time on editing. signNow boasts a powerful editor, which allows adding fillable boxes, drop-down lists, calculated fields, or checkboxes to customize a document. Signatures can be typed in, drawn with a mouse or touchpad, or uploaded as an image or scan.
However, it's not all the magic that is hidden in signNow. The tool is suitable for team collaboration to distribute the flow of documents between users or departments. You can collect payments following document execution through an easy-to-use payment system powered by airSlate. The integration opportunities cover widespread CRMs, productivity tools, cloud storage solutions, and more.
Features
Legally binding e-signatures
Online PDF editor
Workflow automation
Team collaboration
HIPAA/GDPR compliance
PCI for card payments
Kiosk Mode to collect in-person signatures through portables
Branding
Free trial
Pricing
Business — $8 per user per month
Business Premium — $15 per user per month
Enterprise — $30 per user per month
airSlate Business Cloud — $50 per user per month
In Conclusion
Our pick of the best software for remote work in 2022 is surely not complete. Based on the specifics of your industry and the organizational structure of your business, you may need more tools or some alternatives to the above-listed solutions. However, don't go overboard with stuffing your remote workspace with dozens of apps, no matter how helpful they seem. According to a survey, modern workers are already overloaded with digital solutions, and 43% of them would like to have fewer apps in their daily routine. So, here are our last tips on choosing remote-work software:
Analyze your workflow and identify actual needs before you start hunting for new apps.
Don't hesitate to use free trials/versions prior to paying for a service.
Monitor the efficiency of your tech stack usage with a tool like Controlio.
And don't forget to listen to your team since people come first!
Article Photo © Mad Fish Digital
Share a post